Friendly Reminder 
Winchester Friends Church   

 124 E. Washington     Winchester, IN  47394

    765-584-8276
In every way possible, Winchester Friends seeks to carry out its calling to make Christ known through meaningful worship, obedient witness, and sacrificial service, welcoming all who are willing into friendship with God and into redemptive community together.
A Second Advent in a Pandemic
Despite the hopes of everyone that the COVID-19 pandemic would be over by this fall and life would be returning to normal by now, the facts on the ground suggest otherwise.  People in the US have now had over 48 million cases of COVID, and about 780,000 of them have died from the disease.  Indiana accounts for at least 1.1 million of those infections and 17,600 of those deaths.  Here in Randolph County, fewer than 45% of the residents have been vaccinated, and COVID case numbers have been steadily climbing once again with colder weather and Thanksgiving gatherings.
Winchester Friends' Ministry & Oversight has reviewed the situation each month and discussed the advisability of returning to fully in-person meetings for worship, congregational singing, and other activities suspended during the pandemic.  With things still so unpredictable and not likely to improve significantly before next spring, there has not been spiritual clearness yet to make those changes.
And so, we will celebrate Advent and Christmas again in 2021 without many of the Christmas traditions we hoped to enjoy this year.  Let's determine together to continue learning what we began to discover a year ago — that while our traditions are often helpful and meaningful, they are not the reason we honor Jesus' birth each year.  We do that because he came to earth to awaken us to God's love for us, God's desire to be known by us, and his "untraditional" redeeming plan to make that possible for us.  No pandemic can change those facts or prevent us from remembering them in worshipful adoration and gratitude.  Above all else, we hope this Christmas will be like that for you.
Personal Advent Stories
With apologies for this late invitation, if you would like to tell or update our fellowship on December 12, 19, or 26 how Christ first arrived (or continues arriving) into your life, then provide an ornament for the parlor Christmas tree that will remind us each year of what you said, please contact the church office so it can be scheduled during a December meeting for worship-sharing.
"On Hold" for Another Year
Again in 2021, there is not a Christmas Card Exchange Table in the parlor.  Only minimal Christmas decorations have been put out in the meetinghouse, and numerous memorial poinsettias have not been purchased to decorate the sanctuary.  A Holiday Dinner could not be held on an early-December Sunday.  We all have once again missed singing meaningful Christmas carols together during worship, and the joint Winchester-Rural Friends choir was again unable to rehearse and present a Christmas cantata, followed by a Holiday Desserts fellowship.
December Monthly Meeting Change
During the pandemic, Monthly Meetings for Business have been held by Zoom on the first Wednesday evening of each month.  For December, that would fall on the first day of the month.  In order to allow more time for reports to be prepared, December's Monthly Meeting has been delayed one week to Wednesday December 8 at 7:00 PM by Zoom.  All Winchester Friends are urged to attend to hear reports on the church's ministries, get a first look at the 2022 budget, and help discern God's leading for any resource decisions that need to be made.
United Society of Friends Women
The USFW women again this year could not gather for their traditional December meeting for food and fellowship.  They will, however, meet by Zoom (or at the parsonage) at 7:00 PM on Tuesday December 14 for a Christmas-themed meeting.
As of December 1, the USFW has sold about 400    frozen apple dumplings that were made at a workday held on October 30.  Another 400 frozen dumplings are still available for sale in time for Christmas gathering desserts — contact the church office to order.
At their November meeting, the USFW approved gifts of $250 to a cottage of kids at Josiah White's (near Wabash) and to the local Angel Tree ministry, and gifts of $750 to the local Gas Help Fund (winter heating assistance) and the Community Christmas Food Basket program.
December-January Sundays
Because of ongoing pandemic precautions, combined in-person and online Meetings for Worship-Sharing (utilizing Zoom video/phone conferencing) will continue being held at 10:00 AM each Sunday until further notice.  We will abide by CDC recommendations for physical distancing and mask-wearing indoors.  If you are experiencing any COVID symptoms (fever, persistent cough, shortness of breath, recent loss of taste or smell), please participate online or by phone from home.  To connect by phone, dial 1-301-715-8592, then key in the meeting ID (249 900 7533) and password  (162473).  The Ministry & Oversight will continue to monitor the situation and make adjustments month by month.
Christmas Missions Offering
If you sense God's leading to make an extra contribution for missions and benevolence this Christmas season, you may clearly mark your gift "Christmas Missions" and place it in the Sunday offering plate or submit it to the church office this month.  The first $500 donated will be matched by a 2021-2022 Best Special Projects grant, and the total will be used to help Friends United Meeting's ministries in Belize, plus local outreach ministries.
Book Discussion Group
The Book Discussion Group currently is reading A Christmas Memory by Truman Capote.  Discussion of the book will be held at 7:30 PM (Eastern) on Monday December 13 by Zoom.  Copies of the book are available for loan from the church office.
Fall Rummage Non-Sale
The combined USFW-Missions & Social Concerns fall rummage sale was not held in September due to ongoing pandemic caution.  The sale hopefully will be held in the spring, or as soon as conditions allow.
KIVA Microloans
The Missions & Social Concerns Committee in November made two new microloans, one to a grocer and one to a restaurant operator, in villages near Ramallah, Palestine.  The committee is continuing to limit each loan to $200 due to economic uncertainties resulting from the pandemic.
From $4000 of Best Special Projects funding, Winchester Friends has now loaned $38,050 to 116 borrowers in the regions of Friends United Meeting's missions sites in East Africa, Palestine, Central America, and the Caribbean.
_______________________________________________________________
Please keep the church office updated with your current address,
phone, email, and birthday and anniversary information.
_______________________________________________________________
Thank You!
—to the many faithful Friends and friends who have supported Winchester Friends' ministries throughout 2021 by your consistent participation and financial gifts.  Your stewardship is a blessing to God and his Church.
—to everyone who contributed to the $400 special offering in November to support Gideons International's Bible placement ministry.
New Sunday School Quarter
Illuminate quarterlies for December-February titled "Our Connection to Christ," based on the Book of Hebrews, are now available from the southwest parlor table or the church office.  That study by the Welcome Class begins on December 15 and will be held on most upcoming Wednesday evenings at 7:00 PM by Zoom.  Please contact teacher Cleo McFarland or the church office for more information.
Indiana USFW News
On Oct. 23, 2021, all women of Indiana USFW were invited to a blended meeting at the Winchester Friends meetinghouse and on Zoom.  After a brief
history of Indiana USFW, there was approval to lay down Indiana USFW and join with Western Yearly Meeting USFW to form a new association called
Midwest Region of the United Society of Friends Women.  Funds from Indiana USFW were designated to several USFWI projects and Josiah White's
Residential Services in addition to paying for 100 memberships in Midwest Region of USFW.
The first meeting of the Midwest Region of USFW met via Zoom on Oct. 26, 2021 with around 40 women present.  Lynn Mills from Western Yearly Meeting and Pam Ferguson from Winchester Friends Meeting were approved as co-presidents.  Ellen Craig from Winchester Friends was approved to serve as a co-secretary with Dinah Geiger of Western Yearly Meeting for local/national outreach.
Plans are underway for the next meeting of Midwest Region USFW on January 25, 2022, via Zoom to hear about the pad project and to make plans to continue this service project in local USFWs.
Churches & Community Food Pantry
The pantry served 135 households (448 persons) in November, down from October's 163 households (527 persons, 13,000 lbs of food distributed).   The client load has fluctuated similarly throughout the fall but remains at less than 50% of the pre-pandemic level.  That is attributed to increased federal assistance, food bank direct distributions, and school food pantries.  The pantry board sends its thanks for Friends' faithful support through this unprecedented, unpredictable experience.
2021 Fall Missions Focus – Belize Friends Mission
During the second half of 2021, the Missions & Social Concerns Committee asks Friends to learn about and pray for
the missions efforts we support in Belize through Friends United Meeting.
       FUM has been formally present in Belize for education ministry since 1996 when Hoosiers Mike and Kay Cain opened Belize Friends Boys School.  Education is compulsory in Belize for children up to age 14.  In 1995, the country's literacy rate was given as 91%, one of the highest in all of Latin America.  Despite that, however, the opportunity to continue receiving education beyond primary school is dependent on a student's passing a rigorous high school entrance exam.  In the mid-1990s, Belize's primary schools had five times more students than its secondary schools could accommodate.  Every year, over 5000 young teens were being sent to the streets for far too few low-wage jobs because they had failed the high school entrance test.  The Cains provided classes to help young men prepare to retake the high school entrance exam, helped with vocational training classes, and worked to establish a Friends Meeting.  In the ensuing years, others have fine-tuned and expanded the ministry there, changing the school to a coed institution and relocating in 2017 to a larger facility that also houses Belize City Friends Meeting.  FUM field staffer Nikki Holland now serves as Director of the Belize City Friends Center and provides leadership to FUM's Belize ministries.  FUM's Oscar Mmbali, a Kenyan Quaker missionary, is the pastoral minister for Belize City Friends and has done extensive work in community organizing, anti-gang efforts with neighborhood youth, and pastoral care for Friends School students and staff.
The Missions & Social Concerns Committee is attempting to schedule an FUM Missions Sunday in early 2022 featuring Nikki Holland and/or Oscar Mmbali joining us by Zoom to talk about their work and update us on the latest developments at Belize City Friends Center, the Friends School, and Belize City Friends Meeting.  Please watch for announcement of that date, and do your best to join us that day.  Please also note that part of this month's Christmas Envelope Offering for Missions will go to support FUM Belize.  Thank you for your prayers for our Friends there.
–Missions & Social Concerns Committee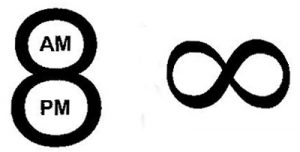 Pray at Eight – Pray Without Ceasing

—for people dealing with substance abuse and addiction, and for those working to help them;
—for people undergoing cancer treatment, and for their caregivers;
—for people sickened by COVID-19 illness (38.6 million in US, 215 million globally as of mid-August 2021);
—for the medical caregivers caring for the sick, distributing and administering vaccinations and working to stop the pandemic;
—for families and friends mourning the coronavirus deaths of loved ones (635,000 in US, 4.5 million globally as of mid-August 2021);
—for people harmed by the pandemic's economic and social impacts;
—for public officials and decision-makers trying to bring the pandemic under control;
—for teachers, students, and others working in the education system under pandemic conditions.
**********************************************************
Winchester Friends Church             765-584-8276
124 E. Washington St.        Winchester, IN 47394
www.winchesterfriendschurch.org
**********************************************************
                                                                The Lord's Table, Not Ellen's
The very best "face time" is around an old maple table of mine that now sits in the dining room of the parsonage. That table began as a tree in a north woods and stood there far longer than it has been a table.  I first saw it in a furniture store in Minot, North Dakota, in 1967.  I was convinced that it should stand in a dining room on Tangley Rd at Minot AFB where Dale and I lived at the time.  That was the last time it stood in a dining room in my home — it has always shared a spot in the living room with whatever other furniture had to be moved when it was needed as a table.  Its drop-leaf feature allowed me to keep it in several homes through 30 years.  (That same feature requires anyone sitting at this table to fight with its legs.)  When Ron and Pam arrived in Winchester almost 20 years ago with a waterbed and little else, I quickly decided that the maple table had a new home.  As you may have guessed, I have had a 50-year (and 50-pound) relationship with this table.  It has been the bearer of many good meals and the center of many good conversations. But blessings even greater than those come from being face to face with people around this old table.  On Wednesday evenings we gather around that table to pray for members of our Meeting, our community, and for many other concerns. And oh yes, we have Prayer Soup or Intercession Salad.  There always seems to be room for more people around "Ellen's Table." Perhaps you should come and see.