CURRENT COVID SCHEDULE
Sunday Morning Meeting for Worship Sharing
10:00 AM at meetinghouse and Zoom

Christian Education Classes currently meeting on Zoom
Monthly Meeting for Business – First Wednesday of the month via Zoom

Prayer Soup Supper – Wednesday evenings at 5:30 PM
Choir Practice – Wednesday evenings at 6:30 PM
Chime Choir Practice – Wednesday evenings at 7:15 PM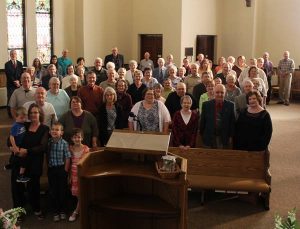 *Monthly Meeting for Business is short for "meeting for worship with a concern for business" or "meeting for worship for business." In business meeting, decisions are made together through worshipful attention to the Spirit and deep listening to one another in a shared search to discern the truth. This is the hinge that holds the meeting together.
Monthly Meeting is the term used to describe a Friends congregation (e.g., Winchester Friends Monthly Meeting). Monthly meetings generally hold meeting for worship on a weekly basis (sometimes more or less often), but have meeting for business once a month.
Winchester Friends Monthly Meeting for Business
Meeting Time: First Sunday of each month after Sunday School
The Monthly Meeting consists of members and attenders of Winchester Friends Church and meets for worship with the attention to business on the first Sunday of each month.  The Presiding Clerk shall see that business is properly presented to the Monthly Meeting, encourages proper functioning of committees, officers and signs documents on behalf of the Monthly Meeting and provides spiritual leadership.  The Recording Clerk will properly record the minutes of the meeting.  Members of Winchester Friends have a right and responsibility to participate in the work and ministry of the meeting through monthly meetings for business.