Winchester Friends Church
Welcome, Friends!               August 12, 2018                  9:15 AM
When all my hopes in [the preachers, priests, most-experienced people,] and all men were gone, so that I had nothing outwardly to help me, nor could I tell what to do, then, oh then, I heard a voice which said, "There is one, even Christ Jesus, that can speak to thy condition"; and when I heard it, my heart did leap for joy.
–Friends founder George Fox's spiritual awakening, 1648
I directed all to the Spirit of God in themselves, that they might be turned from darkness to Light…., that they might become the children of that Light and be turned from the power of Satan unto God, and by the Spirit of truth might be led into all truth to sensibly understand the words of the prophets, of Christ, and of the apostles; and that all might come to know Christ to be their teacher to instruct them, their counselor to direct them, their shepherd to feed them, their bishop to oversee them, and their prophet to open divine mysteries to them; and that all might know their bodies to be prepared, sanctified, and made fit temples for God and Christ to dwell in.
–George Fox to 1000 seekers at Firbank Fell, 1652
Meeting for Worship
Prelude                                                                                                                          Mary Clark
         Welcome, Introductions, Announcements                                                                 Pam Ferguson
Call to Worship (see below)                                                                                                          
Prayer                                                                                                                                               
Hymn # 2                            Come, Thou Fount of Every Blessing                            Jeff Clark
Testimonies of Praise, Concerns for Prayer                                                                              
Hymn #441                                   Take Time to be Holy                                         Jeff Clark
Junior Church for kids age 5 to 5th grade                                                                               
Offertory Prayer                                                                                                Pam Ferguson
Offertory                                                                                                                   Mary Clark
Hymn #427                        Dear Lord and Father of Mankind                               Jeff Clark
Message                                      Hebrews 8:7-13                                            Ron Ferguson
Unprogrammed Worship  —  17th century Friends taught that "Jesus has come to teach His people Himself," and they made that truth the centerpiece of their lives by spending significant periods of time, individually and in gatherings for worship, to listen to their Inward Teacher and obey what they heard.  If God leads you to speak out of the silence, please request a microphone so all can hear your ministry.
Closing Prayer                                                                         Teach Me to Stop and Listen
Teach me to stop and listen, Teach me to center down;
Teach me the use of silence, Teach me where peace is found.
Teach me to hear Your calling, Teach me to search Your Word;
Teach me to hear in silence, things I have never heard.
Teach me to be collected, Teach me to be in tune; Teach me to be directed, Silence will end so soon.
Then when it's time for moving, Grant it that I may bring
To every day and moment, peace from a silent spring.
                            –Ken Medema, 1978                                                         
Postlude                                                                                                                        Mary Clark
following a brief time of fellowship, please join us today for
Sunday School        10:30 AM
There is a class waiting to welcome you each Sunday for study of the Scriptures!
AUGUST USHERS:  Tony Kritsch, Tim Hart, Kenny Girton
AUGUST GREETERS:  Norma Ludy, Caroline Houk, Kathy & Doug Simmons
THROUGH THE BIBLE IN A YEAR READINGS
August 13-19
Jeremiah 27-49
20 years of Thank you's                   Pam Ferguson's Call to Worship, 12 August '18
145 years ago, a 40 year old native of Lynn, Indiana, Elkanah Beard, and his 38 year old wife, Irena Johnson Beard came to Winchester Indiana fresh off the mission field of India to begin a Friends Meeting here in Winchester City.
125 years later, Ron and I, 44 years old, fresh out of the jungle of Uganda, came to live in Elkanah and Irena's home to pastor the meeting they began.  On August 13, 1998, Ron and I drove into Winchester not knowing what the next years would hold in our lives.  In celebration of the 20 years we've made our home next door, I have 20 things for which I need to thank each and every one of you.
One:  Thank you for taking a chance on us 20 years ago.
Two:  Thank you for the home we live in, for your care of it, for making it a place where we love having you into.
Three:  Thank you for letting us celebrate with your families; anniversaries and weddings, birthdays and retirements.  And thank you for kind and generous ways you've helped us celebrate those milestones in our lives. 
Four:  Thank you for letting us be a part of your families, to be with you when you are in the hospital, to be with your families during sickness and death, to participate in the 100 funerals we've had these past years. And thank you for being there for us when we face the same difficult things of sickness and the death of our friends and family.
Five:  Thank you for walking with us these past 20 years as we live and work in Winchester.  You have indeed been ministers with us to the Winchester Community.
Six:  Thank you for welcoming the strangers among us.  You have been a welcoming faith community, ready to shake anyone's hand and offer help.  We are proud of how you've welcomed all into this meetinghouse and this faith community.
Seven:  Thank you for allowing us to represent you among the Wider Society of Friends; to participate on committees in Indiana Yearly Meeting, United Society of Friends Women International, to support Friends United Meeting and their mission and to be a part of the Friends Committee on National Legislation.
Eight:  Thank you for being a praying church.  Your prayers matter to the Winchester Community and they remind us again and again of your dependence on God and your love for His people.
Nine:  Thank you for being a forgiving faith community.  For all the mistakes you've overlooked and tolerated from us, for the times when we've said or done the wrong thing, not being there when you needed us or for being there when you didn't want us. Your kindness and forgiveness means the world to us and we thank you.
Ten:  Thank you for being our family when our own families are many hundreds of miles from here. 
Eleven:   Everyday, in a hundred ways, we are reminded we are outsiders in Randolph County. Thank you for making us feel at home with you, for making us feel like we belong to this faith community.
Twelve:   Thank you for being a giving faith community.  Winchester is a better place because of your giving, both of finances and of your time and talent. We are better people for the way you give to us.  From the food on our table to the table itself, from the blankets that cover us to the shoes on our feet, you have given and given and given and we thank you.
Thirteen:   Thank you for embracing crazy ideas like Compassion Gardens, solar panels, historical markers.  Your support of these projects blesses us again and again.
Fourteen:   Thank you for being a musical church, for singing deeply spiritual hymns, and investing in the ministry of Mary Clark and Brian Lilly.  They bless us.
Fifteen:   Thank you for letting Ron and I work together, for allowing us to be co-pastors; thank you for calling me your pastor too.
Sixteen:  Thank you for tolerating our annual membership at the golf course.  While we are not great at taking vacations, that hour several times each week has been life giving for us.
Seventeen:  Thank you for letting us represent you in the jail each week.  God teaches both of us in those hours and we pray we represent you well.
Eighteen:  Thank you for the care of this meetinghouse.  For the hours many of you spend, trying to make it safe, useful and beautiful.  We pray this building blesses the community for another 120 years.
Nineteen:   Thank you for being the church beyond the doors of this building, to help those who hunger, to provide clothing and household goods to those in need through rummage sales, to clothe babies through Morgan's First Gift, to give through Ed Best Special Projects to bless this community in a hundred ways each and every year. We are blessed to call this our faith community.
Lastly, thank you for being patient. For those of you who despair that we will never leave, we will leave one day.  We pray now for the family who will move in next door, that they will love you better than we have, that they will cherish and understand the gift of your lives and ministry to this community, and that they will continue to nurture a deep devotion to Christ and a deep understanding of your Quaker Christian view of ministry.  We and the Ministry and Oversight are actively listening and seeking God's timing for this next pastor at Winchester Friends.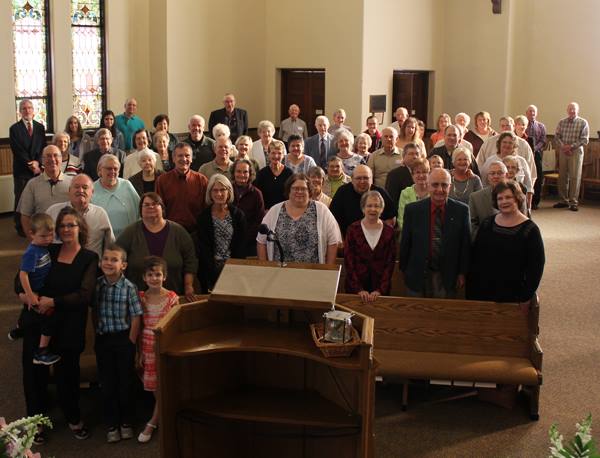 *Monthly Meeting for Business is short for "meeting for worship with a concern for business" or "meeting for worship for business." In business meeting, decisions are made together through worshipful attention to the Spirit and deep listening to one another in a shared search to discern the truth. This is the hinge that holds the meeting together.
Monthly Meeting is the term used to describe a Friends congregation (e.g., Winchester Friends Monthly Meeting). Monthly meetings generally hold meeting for worship on a weekly basis (sometimes more or less often), but have meeting for business once a month.
Winchester Friends Monthly Meeting for Business
Meeting Time: First Sunday of each month after Sunday School
The Monthly Meeting consists of members and attenders of Winchester Friends Church and meets for worship with the attention to business on the first Sunday of each month.  The Presiding Clerk shall see that business is properly presented to the Monthly Meeting, encourages proper functioning of committees, officers and signs documents on behalf of the Monthly Meeting and provides spiritual leadership.  The Recording Clerk will properly record the minutes of the meeting.  Members of Winchester Friends have a right and responsibility to participate in the work and ministry of the meeting through monthly meetings for business.