Friendly Reminder    

In every way possible, Winchester Friends seeks to carry out its calling to make Christ known through meaningful worship, obedient witness, and sacrificial service, welcoming all who are willing into friendship with God and into redemptive community together.
Father-Family Lunch June 10

The USFW women invite the whole church family to honor the fathers and ministering men in our fellowship by attending the Father-Family Lunch on
Sunday June 10
in the sanctuary parlor (due to the dining hall ceiling replacement project downstairs) at
11:30 AM
, right after Sunday School.  It's a free lunch for all — everything will be provided.  Please bring your family for worship and Sunday School, and then join us for lunch!
USFW Lunch Meeting June 13

All USFW ladies are invited to Norma Ludy's home for lunch at
1:00 PM
on
Wednesday June 13
, followed by a short business meeting to discuss summer projects.  Please RSVP to the church office by
June 10
to help with food planning.  Join us for our final USFW meeting before the summer break!
Father's Day is June 17
Please plan to worship at Winchester Friends at
9:15 AM
on Father's Day.  The Christian Fellowship Committee will have small gifts for all the men in the Meeting, and you'll have opportunity to honor your father and the other caring men in your life by giving thanks to God for them during gathered worship.
Celebrate the Arts this Summer

The choir presented several musical specials during worship on May 20 to close their 2017-2018 season.  While they take a break until early September, please consider sharing your musical or nonmusical artistic talents (painting, photography, basket-making, needlecraft, woodcraft, poetry, drama, etc.) in praise to the Lord during Sunday morning meetings for worship. 
Sunday School classes
also are challenged to sign up to sing a special together at least once this summer. 
Dates open at this writing are June 10, 17, 24;

July 1

, 8, 15, 22, 29; August 5, 12, 19, 26; and

September 2

. 
Sign the sheet in the sanctuary parlor, or phone the church office to fill a date.  Choir rehearsals will resume on
September 5
— and there will be a seat for
you
there!
______________________________
________________________
Please remember to keep the church office updated on birthday and
anniversary information, and any e-mail, phone, or address changes.
______________________________________________________
Rural Friends VBS Invitation
Rural Friends Church (1.5 miles west of US 27 on CR 400S) invites Winchester Friends to participate in their evening Vacation Bible School to be held
Tuesday June 5 through Thursday June 7
from
6:30-8:45 PM.
  The VBS will conclude with an open house fellowship at Rural on
Friday June 8 at 7:00 PM.
   There will be classes for kids and adults to explore God's creation and its purposes.  For more information, phone Becca (765-576-0827), Sue (546-0867), or Isaac (546-1882).
Committees for the New Church Year
Since April, the Personnel Committee has worked with Winchester Friends participants to match your interests and gifts for serving God with opportunities for ministry through the Meeting during the 2018-2019 church year.  Their report will be presented for approval by the June Monthly Meeting for Business, and
new committee assignments will take effect on

July 1
.  The Committee reminds everyone that some openings still remain to be filled, and opportunities for involvement in the church's ministries exist throughout the year.  If you'd like to join a committee or get involved in ministry in other ways, please contact the church office.
Welcome, "New" Friends!
With joy and gratitude, the Monthly Meeting for Business on May 6 approved the Ministry & Oversight's recommendation that Sasha and Doug Baker be received into formal Winchester Friends membership.  Sasha was a Junior Member here during childhood when her family was active in the church.  The Bakers have been faithfully participating in ministry here since retiring in 2014 from 27 years as teachers at the Hong Kong International School.  Please make a special effort to welcome and get acquainted with Doug and Sasha, now as "official" Friends!
Thank You
to Virginia Densmore for the red geraniums in front of the parsonage, and to Pam Ferguson for preparing the large flower pots at the east entrances to the meetinghouse, utilizing Memorials Fund money given to the church in memory of deceased Friends.  Please think of those loved ones when you see the beautiful flowers there this summer.
Our Sympathy
to Nita and Steve Burton and their family mourning the May 24 death of Nita's brother Tim Wolfe of Frankfort, IN, after a brief illness.
2018-19 Best Special Projects
Winchester Friends' Clerks & Officers met on May 23 to review funds from the 2017 Bashia & Ed Best Trust distribution that are available to help make Christ's love tangible and visible "beyond ourselves" during the 2018-2019 church year, and to begin discerning God's leading for Best Special Projects to be funded.  At least $25,000 should be available for such projects in the new church year.  Since 2001, around $270,000 has been invested in Best Special Projects to bless our community and the world.
The Clerks & Officers preliminary proposal of grants totaling around $20,000 will be given to the Monthly Meeting for Business on June 3.  A final proposal for funding many of the ministries funded in recent years, plus a few new ones, will be presented for approval at the July Monthly Meeting. 
Friends are invited to continue listening to God for leading regarding creative new ways to utilize these funds to make Christ's love tangible.  Keep in mind that priority is given to ministries in which our own Friends are meaningfully involved, and ones that are doing the most they can with the resources they already have — but could do more or better with a bit of extra help.  Please speak with a committee clerk or Meeting officer this month about your leadings and ideas.   
Missions Giving Basics
Specified Missions Offerings  When Friends place money in the offering plate clearly designated for a specific missions recipient or project, the Meeting treasurer credits that person's donation record (for tax purposes), then sends the entire gift directly to the designated recipient.
Unspecified Missions Offerings   A number of Friends regularly or occasionally put money in the offering marked "Missions" without naming any specific recipient.  Those gifts are credited to the giver's donation record, then deposited temporarily into the Missions Unspecified Fund of the church's financial system.  Each quarter, the treasurer sends 17% of that Fund's donations to the local food pantry, 17% to the local Gas Help (matching) Fund to help people having difficulty affording heat in the winter, 17% to Christian Peacemaker Teams, and 17% to Friends United Meeting global missions.  The other 32% of each quarter's unspecified missions gifts is held for opportunities and needs that become known to the Missions & Social Concerns Committee through the year.
Dining Hall Ceiling Replacement
The Trustees are making necessary preparations to the meetinghouse dining hall sub-ceiling to enable installation of a suspended acoustic tile ceiling.  They plan to do as much of the work themselves as possible in order to keep the expense as low as possible.  That means it likely will take somewhat longer than hiring the job done, so they thank Friends for your patience and understanding while the project is underway.  Thank you, Trustees, for your investment of time and talents in faithful stewardship of the Meeting's resources!
Churches & Community Food Pantry
The Pantry in May 2018 served 359 households, compared to the 325 served in April 2018 and 345 that were helped a year ago in May 2017.  Special thanks to Dave Longnecker in May for hauling a commercial refrigerator and a commercial freezer to be recycled, and for hauling back from Richmond two new refrigerators (courtesy of last month's mystery donor) and installing them at the Shalom Center!
77th KIVA Microloan
The Missions & Social Concerns Committee in late May made its 77th KIVA loan, this one of $400 to Pamela Akoth, a 43 year-old devoted wife and mother of four children who sells fish for a living in Kisumu, Kenya (host city of FUM's Africa Ministries Office) along the shores of Lake Victoria.  She purchases a variety of fresh fish directly from the lake's fishermen and resells them to customers in Kisumu's marketplace.  Her business involves quick product turnover and requires ready working capital.  She will use this loan to increase her business volume and profits.  Pamela's long-range goal is to help her children gain a university education.  
Starting from a $3000 Best Special Projects grant, Winchester Friends has now loaned $27,225 to 77 borrowers in the regions of Friends United Meeting's missions sites (East Africa, Palestine, Cuba, Belize, and Jamaica). To learn about all our past and current loan partners and see their progress, go to <KIVA.org>.  Click on "Teams" beneath "Community" at the bottom of the page, then type Winchester Friends into the "Search Teams" box and click "search."  Click on the photo of our meetinghouse, then on the "Loans" tab at the top of the next page to see all our loan partners.
17th Annual Compassion Garden
The Compassion Garden's tomato, pepper, cucumber, bean, eggplant, squash, and other plants are growing well in the strips around the church's parking lot.  Watch them grow each week, and plan to donate for the vegetables later this summer to help low-income families in developing countries.  Home gardeners are welcome to bring your surplus to the 2018 Compassion Table, too!

Spring 2018 Social Concerns Focus:  Digital Discipline
For the first half of 2018, the Missions & Social Concerns Committee asks Friends to recognize both the benefits and the risks of this "digital age," and to carefully consider the quality, quantity, and spiritual witness of your use of social media and other electronic communications and entertainment programs and devices.
Let us consider how we may spur one another on toward love and good deeds.   Hebrews

10:24
The extra risks which accompany the obvious benefits of this digital age call upon all of us — parents, extended family, friends, faith community — to "watch over one another for good," as the early Friends put it.  When we're going to be late picking someone up, or when we need to change some arrangement at the last minute or check on someone's well-being, it is a real plus if that person has a mobile phone.  Many organizations are offering thoughtful questions for processing the decision of whether to supply smartphones to especially young people.  Most of their questions really apply to adults, too.
(1) Why do you want a cell phone?
  Because everyone else has one?  To text with friends? Or play
Candy Crush
for hours? 
(2)  Do you understand the rules your family and school (and workplace) have for phone use?
  Kids know they have to answer yes, but it can help start the conversation about expectations around how the phone is used (downloading apps without permission, using the phone in the classroom, etc.) and consequences if rules are broken. 
(3) What concerns do you think your family or teachers have about phones?
  This conversation can clarify concerns over how often/long your child is on the phone, use of social media apps, or handling contact from a stranger. 
(4)  What are the places it's not OK to use your phone?
Phone etiquette/safety is an ongoing conversation, but it is good to lay down the absolute basics (like no staring at your phone when Grandma's talking, no photos in locker rooms, no phones at the table, no calling or texting while driving, etc.). 
(5) What if you lose or break your phone? 
Will it be replaced, and who pays?  Is insurance an option? It's best to count the cost in advance.         
–adapted from commonsensemedia.org
Or consider these findings from Habyts.com:  (1)  Tweens spend less time outdoors (less than one hour daily) than prisoners do, twice as long on screens as outside; (2) one in four kids believe video games are exercise; physical activity in kids now starts declining at age 7;  (3) 80% of kids have social media accounts — Facebook, Instagram, YouTube, etc. — by age 12, despite the required minimum age being 13; (4) 60% of tweens do not get enough sleep, due in large part to late-night screen use; (5) the average age of kids getting their first smartphone is now 10.3 years — and falling.
Things that cause people to sin are bound to come, but woe to that person through whom they come.  It would be better for him to be thrown into the sea with a millstone tied around his neck than for him to cause one of these little ones to sin.  So watch yourselves.

Jesus of Nazareth, Luke 17:1-3
Pray at Eight – Pray Without Ceasing

for people struggling against substance abuse and addiction, and for the people working to help them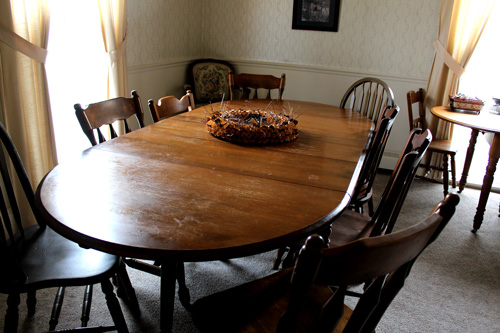 The Lord's Table, Not Ellen's
The very best "face time" is around an old maple table of mine that now sits in the dining room of the parsonage. That table began as a tree in a north woods and stood there far longer than it has been a table.  I first saw it in a furniture store in Minot, North Dakota, in 1967.  I was convinced that it should stand in a dining room on Tangley Rd at Minot AFB where Dale and I lived at the time.  That was the last time it stood in a dining room in my home — it has always shared a spot in the living room with whatever other furniture had to be moved when it was needed as a table.  Its drop-leaf feature allowed me to keep it in several homes through 30 years.  (That same feature requires anyone sitting at this table to fight with its legs.)  When Ron and Pam arrived in Winchester almost 20 years ago with a waterbed and little else, I quickly decided that the maple table had a new home.  As you may have guessed, I have had a 50-year (and 50-pound) relationship with this table.  It has been the bearer of many good meals and the center of many good conversations. But blessings even greater than those come from being face to face with people around this old table.  On Wednesday evenings we gather around that table to pray for members of our Meeting, our community, and for many other concerns. And oh yes, we have Prayer Soup or Intercession Salad.  There always seems to be room for more people around "Ellen's Table." Perhaps you should come and see.