Friendly Reminder    

Winchester Friends Church   

124 E. Washington     Winchester, IN  47394

    765-584-8276
In every way possible, Winchester Friends seeks to carry out its calling to make Christ known through meaningful worship, obedient witness, and sacrificial service, welcoming all who are willing into friendship with God and into redemptive community together.
Pandemic Alterations Continue
The Ministry & Oversight met by video-conference on June 1 to discuss the current status of the pandemic and to discern God's leading for Winchester Friends' ministries and services in the coming weeks.  All agreed that we deeply miss the opportunity to be together in the same place for worship, music, instruction, and fellowship. They began by considering COVID statistical trends, reviewing the Indiana governor's reopening guidelines, discussing our Meeting's unique demographics (ages, health, etc.), and hearing how other area organizations and businesses are proceeding towards reopening.
They also spent significant time looking through health and insurance authorities' checklists of recommended measures for preventing infection when in-person gatherings resume (facemasks, hand sanitizers, body temperature checks, symptom surveys, limited entrances and exits, elimination of contact greetings, distanced seating, limited if any singing, sanitizing of all touched surfaces, elimination of refreshments, etc.).  And they discussed the equipment and technical upgrades that would be needed to broadcast in-person services to the internet for Friends who feel they cannot attend.
At the end of that discussion, the sense of M&O's meeting was that Winchester Friends should begin taking thoughtful steps to put many of those measures in place while, out of caution for our older Friends, continuing to hold online meetings for worship-sharing (utilizing Zoom video/phone conferencing) at 10:00 AM each Sunday. Friends are welcome to forward the Zoom invitation email to friends to invite them to join us in online worship.
If you have a computer with an internet connection but no web camera or microphone, you can join the worship-sharing using both the emailed invitation link to see others in the meeting on your computer monitor, and using your conventional telephone to hear and be heard by others.
M&O will meet again on June 16 to reassess the situation and consider possible dates for resuming in-person services in the meetinghouse.
__________________________________________________
Please remember to keep the church office updated on birthday and
anniversary information, and any e-mail, phone, or address changes.
___________________________________________________
June Monthly Meeting for Business
Winchester Friends' Monthly Meetings for Business were not held in April and May due to the gathering restrictions associated with the coronavirus pandemic.  The Ministry & Oversight on June 1 requested that June's Monthly Meeting (the final one of the 2019-2020 church year) be held by Zoom videoconference on Wednesday evening June 17 at 7:00 PM.  All active Friends are encouraged to participate if possible.  An email invitation will be sent to those whose addresses are on file.  Friends who do not use email are welcome to join the meeting by conventional telephone, as described in the previous paragraphs.
Easter Envelope Offering for Outreach
Kind Friends during April donated a total of $720 to the Easter missions offering.  With the additional $500 Best Special Projects match, the Missions & Social Concerns Committee has $1220 for helping victims of this year's tornadoes, hurricanes, and other disasters.  Thank you, Friends, for this tangible expression of Christ's love!
Personnel Committee on Hold
The Personnel Committee was not able to meet in May to get organized for their work of discerning ministry opportunities and placements for the 2020-2021 church year.  The Ministry & Oversight again requests that Friends continue serving the Lord through the committees and positions they held during the past church year, until the Personnel Committee is finally able to meet to do its work.  Thank you for your patience and your faithfulness in these ministries.
Congratulations!
—to Kendra Holliger on her graduation from IUPUI in mid-May; she will begin dental school in early July
—to Suzanne Weber on her retirement in May after 33 years of teaching special education, most recently at Randolph Eastern High School
—to Shirley and Mark Ertel, who celebrated their 50th wedding anniversary on May 29
—to Marsha and Tony Kritsch, who will celebrate their 50th wedding anniversary on June 14
Happy Mother's and Father's Days
The pandemic has prevented our being together in May and likely in June to honor the parents, grandparents, and other women and men whose example and ministries have helped us in our lives.  Despite the absence of the usual gifts and recognition, we all hope that our appreciation can be clearly expressed in other ways all year long for the nurturing, ministering women and men in our Meeting.
Our Sympathy
—to Barbara Fisher, Jon Fisher, Marsha and Tony Kritsch, and Barbara's family mourning the death of her husband Wayne Fisher on May 3
—to Bobbie and Susie Turner and their family mourning the death of Bobbie's sister Maggie Day on May 5
USFW Meetings on Hold….
No decision has yet been made regarding the first post-pandemic meeting of Winchester Friends' United Society of Friends Women group.  Please stay tuned for that announcement in upcoming weeks.
….USFW Spring Rummage Sale, Too
The room at the bottom of the east basement entry stairs is packed to overflowing with rummage sale items that have been donated since February for what was intended to be a late-March sale.  That event was postponed due to the coronavirus pandemic and the restrictions placed upon gatherings.  Even with the guidelines relaxed, there is real concern that social distancing would not be maintained on sale day in the crowded meetinghouse basement.
Thank You to Dave Longnecker, who took time in May to diagnose and repair a faulty lighting fixture in the annex restroom entry hallway.
19th Annual Compassion Garden
Pam Ferguson has gotten the Compassion Garden (along the south and east edges of the church parking lot) planted with tomatoes, peppers, cucumbers, and other vegetables.  Harvest of the first produce will not happen until late June or early July, but when that occurs, Friends will be welcome to donate to Heifer International's ministries in developing countries in exchange for some of the vegetables.  If the church is not yet holding in-person services by then, Friends may call or visit the church office to request whatever produce is ready.  Home gardeners are again this year welcome to bring excess vegetables to the church to add to the Compassion table.
God Calling Devotional Books Available
Our Friend Sasha Baker learned from her doctors in May that the cancer for which she was treated in 2016 had recurred.  Through her surgery, treatments, and lengthy recovery four years ago, the daily devotional book God Calling was a source of comfort and encouragement to both Sasha and Doug.  In support and solidarity with the Bakers as a new series of treatments begins, Winchester Friends has ordered copies of God Calling to be given to households in the Meeting who will agree to read each day's brief devotional message along with Sasha and Doug.  At this writing, there are at least ten books still available.  If you would like to participate, please phone the church office to request a copy.
New Meetinghouse Entry Doors
After discussion for several years about the entry doors on the east side of the meetinghouse, the Trustees, with the approval of March's Monthly Meeting, have finally ordered new entrance doors.  The current narrow double doors will be replaced by one wider door with windows on the side.  Al Groth spent time at the first of the year replastering the northeast entrance damaged by the leaking roof of the bell tower, and Shane Hall will begin work replacing the double doors when the new doors arrive in the next few weeks. Thank you, Trustees, for your care of the meetinghouse.
Seeing Yellow
One hundred years ago as Suffragettes were traveling across the United States holding rallies to encourage the ratification of the 19th Amendment to give women the right to vote, women's backyard gardens bloomed with huge numbers of blossoms in suffrage yellow to show their support for the amendment. This year, in celebration of the 100th Anniversary of the Women's Right to Vote, Winchester Friends has planted yellow flowers in the pots in front of the meetinghouse, plus sunflowers in the Compassion Garden.  Tennessee became the 36th state to ratify the amendment on August 18, 1920, and the amendment was adopted.
Winchester Friend Amanda Way was a founding member of the Indiana Woman's Rights Association, and called for the state's first women's rights convention in 1851.  She served as vice president of the proceedings.  Way remained active in the Association, including service as its president in 1855, and helped reactivate it in 1869, renamed as the Indiana Woman's Suffrage Association. Elizabeth Cady Stanton and Susan B. Anthony dubbed her the "mother of 'The Woman Suffrage Association' in Indiana" for her early leadership and efforts in initiating the first women's rights convention in the state.
Hymn for a Pandemic
How firm a foundation, ye saints of the Lord, Is laid for your faith in His excellent Word! 
What more can He say than to you He hath said, To you, who for refuge to Jesus hath fled?
Fear not, I am with thee; oh, be not dismayed, For I am thy God and will still give thee aid. 
I'll strengthen thee, help thee, and cause thee to stand, Upheld by My righteous, omnipotent hand.
When through fiery trials thy pathway shall lie, My grace, all sufficient, shall be thy supply. 
The flame shall not hurt thee; I only design thy dross to consume and thy gold to refine.
The soul that on Jesus hath leaned for repose I will not, I will not desert to his foes;
That soul, though all hell should endeavor to shake, I'll never, no never, no never forsake!

How Firm a Foundation, author unknown, 1787
**********************************************************
Winchester Friends Church             765-584-8276
124 E. Washington St.        Winchester, IN 47394
www.winchesterfriendschurch.org
**********************************************************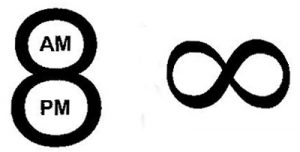 Pray at Eight – Pray Without Ceasing

for people struggling against substance abuse and addiction, and for the people working to help them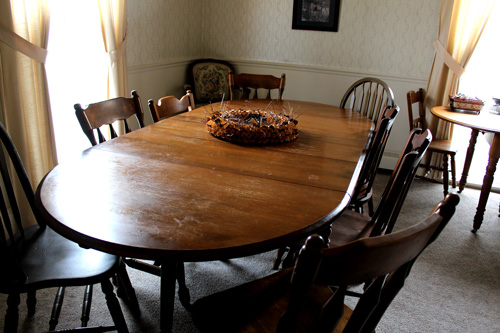 The Lord's Table, Not Ellen's
The very best "face time" is around an old maple table of mine that now sits in the dining room of the parsonage. That table began as a tree in a north woods and stood there far longer than it has been a table.  I first saw it in a furniture store in Minot, North Dakota, in 1967.  I was convinced that it should stand in a dining room on Tangley Rd at Minot AFB where Dale and I lived at the time.  That was the last time it stood in a dining room in my home — it has always shared a spot in the living room with whatever other furniture had to be moved when it was needed as a table.  Its drop-leaf feature allowed me to keep it in several homes through 30 years.  (That same feature requires anyone sitting at this table to fight with its legs.)  When Ron and Pam arrived in Winchester almost 20 years ago with a waterbed and little else, I quickly decided that the maple table had a new home.  As you may have guessed, I have had a 50-year (and 50-pound) relationship with this table.  It has been the bearer of many good meals and the center of many good conversations. But blessings even greater than those come from being face to face with people around this old table.  On Wednesday evenings we gather around that table to pray for members of our Meeting, our community, and for many other concerns. And oh yes, we have Prayer Soup or Intercession Salad.  There always seems to be room for more people around "Ellen's Table." Perhaps you should come and see.