Friendly Reminder   

Winchester Friends Church   

124 E. Washington     Winchester, IN  47394

    765-584-8276
In every way possible, Winchester Friends seeks to carry out its calling to make Christ known through meaningful worship, obedient witness, and sacrificial service, welcoming all who are willing into friendship with God and into redemptive community together.
It's Back to Sunday School Time, Too
The three adult Sunday School classes (Welcome/ William Penn in the annex, Fabulous Friends in the basement parlor, Parsonage next door) on September 1 began a new 13-lesson series in the Illuminate quarterly (Barclay Press) based on the Gospel of John.
 
John's was the last of the four gospels to be written; is organized topically for theological emphasis, rather than chronologically like Matthew, Mark, and Luke; and is written with an evangelistic concern for second and third generation Jewish Christians who, as memories of Jesus of Nazareth faded, were being drawn away from spiritual faith and life in Him as the Messiah and back towards ritualistic, legalistic, ceremonial religion.  That is why the editors of Illuminate write in their introduction that "Friends find much in John's gospel that supports our emphasis on the primacy of spiritual reality as opposed to simple belief or religious ritual."
Everyone is invited to come join a class each Sunday at 10:30 AM for this important Bible study.
USFW Resumes September 11
The USFW's first meeting of the fall will be held Wednesday afternoon September 11 at 1:30 PM at the church.  All Friends women are invited for fellowship and service.
USFW's 48th Annual Indiana Women's Retreat (theme "Unity of the Spirit") will be held on September 9-10 at Quaker Haven.
USFW Apple Dumpling Workday     All Friends are invited on Saturday September 28 from 1-3 PM to help assemble 1000+ apple dumplings for sale at this fall's Mardi Gras festival (October 2-5).  This is our USFW's primary means of funding their missions and benevolence ministries all year long.  The more hands there are doing the work, the sooner it will be completed, so please come help!  Watch for a sign-up sheet soon to volunteer to help staff the kitchen and booth during Mardi Gras in October.
_______________________________________________________
Please keep the church office updated with your birthday and anniversary information,
and any address/phone/email changes.
_______________________________________________
Sing With Friends This Fall!
1)  The weekly Worship Choir held their first rehearsal of the fall season on Wednesday evening September 4, and they now will practice at 7:00 PM at the church each Wednesday evening going forward.  If you are Jr. High age or older, your voice is needed, whether you're an experienced singer or a learner.
2)  Anyone who enjoys singing but isn't able to rehearse each week is welcome to join the occasional Hymnbook Choir for 2019-2020 (usually on the fourth Sunday in five-Sunday months).  Rehearsals will be at 8:45 AM right before worship on the Sundays the Hymnbook Choir sings.  Music will be selected from our hymnal.  Please watch for announcement of the dates, and come sing with us!  Contact director Brian Lilly (765-969-0689) for details on both choirs.
3)  Celebrate the Arts:  Friends are invited to share their musical and nonmusical  (poetry, painting, photography, handicrafts, woodcraft, etc.) artistic talents in praise to the Lord during worship this fall on Sundays the choir does not sing (usually the last Sunday of the month).  Sign the sheet in the sanctuary parlor, or phone the church office to select a date.
  Rummage Sale for Jamaica Sept. 14
The Missions & Social Concerns Committee will hold their fall Rummage Sale for Missions on Saturday September 14 from 8 AM to 2 PM at the meetinghouse.  The proceeds will help fund the training of ministers, Christian education in the churches, and other ministries of Jamaica Yearly Meeting.  Friends are welcome to bring donated sale items to the basement until September 12 — and thank you to all who already have contributed.  The Committee welcomes volunteers to help sort and display rummage anytime Monday-Friday before the sale, and to help conduct the sale on September 14 and to clean up afterwards.  And of course, everyone is urged to come shop and to donate generously!
Community Food Pantry Update
During August 2019, the Winchester Area Churches & Community Food Pantry served 329 households.  For comparison, the Pantry served 374 households in July 2019, and 348 a year ago in August 2018.
Friendship Sunday is September 22!
Winchester Friends' 21st annual Friendship Sunday and Fall Picnic will be held on September 22 at the 4-H fairgrounds approximately two miles south of Winchester on US 27.  Breakfast snacks and drinks will be available around 9:30 AM, and the outdoor meeting for worship will start at 10:30 AM. 
With an eye on the weather, dress comfortably and casually (jeans, sweatshirts, etc.) for meeting outdoors.  Please bring lawn chairs if you have some; extra chairs will be available as needed.  In case of inclement weather, the meeting will be moved indoors.
The Ministry & Oversight has chosen "Whole-person Discipleship" as the theme for this year's Friendship Sunday.   During worship, we'll reflect on the ways that faithful friendship with God affects every part of our lives, motivating us first to be Jesus' disciples, then to make new disciples, to labor alongside other disciples as teammates building up the Body of Christ, and to proclaim Good News to all God's creatures.
For the first time since 2001, the M&O has decided not to release Peace Prayer balloons (in remembrance of the tragedies of the September 11, 2001, terror attacks) at the close of worship.  This change is being made in consideration of rising global concern over plastics littering the environment that risk harm to animals and that often end up in rivers, lakes, and oceans.  As stated above, part of serious discipleship is choosing not to harm God's creatures.  Prayer of St. Francis (Make me an instrument of Your peace.…) cards still will be distributed, but with new nonpolluting ways for Friendship Sunday attenders to see how widely the message of peace can be spread, still "in memory of those who died on 9/11 and in the wars since then," and still "in longing for a world transformed by Christ's love, a world where violence is unnecessary and counterproductive."
For the Fall Picnic at lunchtime, the Welcome/William Penn Class will provide the table service, meat course, and drinks.  Those attending lunch are asked to bring vegetable, casserole, salad, and/or dessert dishes to share with everyone potluck-style. 
Everyone may stay after lunch as long as you like for fellowship and to get acquainted with new friends.  You also are welcome to bring lawn and indoor games to help get everyone involved in fun activities after lunch. 
Friendship Sunday fellowship is always relaxed and rich, and the potluck lunch always delicious and plentiful.  The Ministry & Oversight's goal is for every Friend to bring at least one friend, especially someone who is not currently part of a faith fellowship, to come with you to Friendship Sunday as part of your church family.
Don't miss Friendship Sunday on Sept. 22!

Sunday Morning Greeters
Each Sunday, four volunteers usually welcome worshipers and "direct traffic" at the northeast and east entrances to the meetinghouse.  Thank you to the many Friends who have helped so faithfully with this ministry in the past!  If you would continue — or begin — serving as a greeter, please sign the sheet in the parlor or contact the church office to choose an upcoming month during which to help.
2020 Committee Budgets
Committee clerks are reminded to have your committees prepare 2020 budget requests in September and submit them to the church office by October 1.  The Stewardship & Finance Committee will then prepare the overall 2020 budget for a first reading at November's Monthly Meeting.  Please contact the church office or treasurer if you need additional information.
Our Sympathy
—to daughter Maria Molina, son Mark McHolland, and all in the family of our Friend John McHolland mourning his death on August 5 at Reid Hospital in Richmond;
—to Mary and Jeff Clark and their family mourning the death of Mary's father Dallas Swindell on August 23 at Parker Health Center in Parker City
90th KIVA Microloan
The Missions & Social Concerns Committee in late August made a new KIVA loan to Alice, a married mother of three children who runs an auto parts/supplies shop in Kisumu, Kenya (host city of FUM's East Africa office).  She sought a KIVA loan to enable her to stock more spare parts, lubricants, and other auto products in order to boost her sales, more quickly serve her customers in a very competitive business, and increase her income to help support her family and educate her children. 
 Starting from $4000 of Best Special Projects grants, Winchester Friends has now loaned $32,125 to 90 borrowers in the regions of Friends United Meeting's missions sites (East Africa, Palestine, Cuba, Belize, and Jamaica).  To learn about all our past and current loan partners and see their progress, go to <KIVA.org>.  Click on "Teams" beneath "Community" at the bottom of the page, then type Winchester Friends into the "Search Teams" box and click "search."  Click on the photo of our meetinghouse, then on the "Loans" tab at the top of the next page to see all our loan partners.
2019 World Quaker Day is October 6
Friends World Committee for Consultation, a global Quaker organization that encourages connection and collaboration among the world's Friends, has designated October 6 as this year's World Quaker Day.  Be sure to attend worship that day to celebrate Friends' remarkable diversity of work for the Lord around the world, and to be included in a congregational photo that will be submitted to FWCC's website.  Let's be global Friends!
Fall 2019 Missions Focus:  Jamaica Yearly Meeting
During the first half of each year, the Missions & Social Concerns Committee asks Friends to focus on a contemporary social concern.  In the latter half of each year, we call Friends' attention to one international missions effort of Friends United Meeting.  For the fall of 2019, that focus is upon Quaker presence and ministry since 1881 on the Caribbean island of Jamaica.
Jamaica is in the Caribbean Sea  south of Cuba, about 600 miles south of Miami.  It measures 50 miles north to south at its widest point, and 145 miles from east to west.  After 60 years of missionary activ-  ity, Jamaica Yearly Meeting was established as a member yearly meeting of FUM in April 1941.  There are at least 13 churches in Jamaica Yearly Meeting, all located in the eastern one-third of the island. Within the past ten years, FUM changed its official relationship with Jamaica Yearly Meeting and no longer lists it as an FUM "missions area."  There currently are no FUM-supported expatriate staff living and working in Jamaica.
Early in Jamaica's colonial history, many poor people were brought from India as indentured servants to work in the banana plantations and other farms.  Friends soon began schools for the workers' children to teach English, reading, writing, math, and Bible stories. By the early 20th century, there were many orphans among Jamaica's Indian population.  At first, Friends missionaries took orphans into their homes, then started small orphanages near the churches.  As that need grew, much of Friends' work in Jamaica became consolidated in caring for orphaned children at Lyndale Girls' Home and Swift-Purscell Boys' Home at Highgate in northeast Jamaica.  Both of those institutions struggled, then closed in recent years due to leadership and facilities challenges. 
North Carolina Yearly Meeting has assumed a major responsibility for Christian education and the training of pastors and other leaders among Jamaican Friends, some carried out in the Highgate buildings.  They lead groups of US Quakers to Jamaica to help with Vacation Bible Schools, and they provide materials and instruction for more advanced training.  Their goal is to strengthen the local churches and equip them to work together in discerning, planning, and implementing effective ministries among the people living near Friends communities in Jamaica.
**********************************************************
Winchester Friends Church             765-584-8276
124 E. Washington St.        Winchester, IN 47394
www.winchesterfriendschurch.org
**********************************************************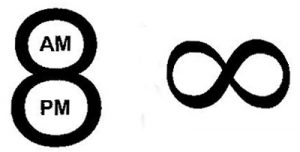 Pray at Eight – Pray Without Ceasing

for people struggling against substance abuse and addiction, and for the people working to help them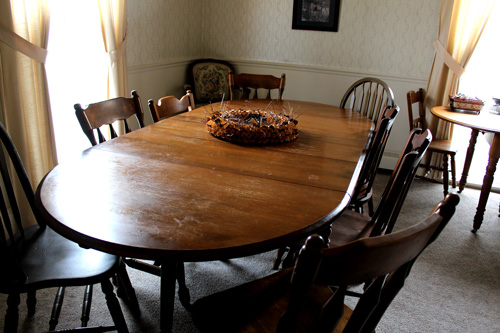 The Lord's Table, Not Ellen's
The very best "face time" is around an old maple table of mine that now sits in the dining room of the parsonage. That table began as a tree in a north woods and stood there far longer than it has been a table.  I first saw it in a furniture store in Minot, North Dakota, in 1967.  I was convinced that it should stand in a dining room on Tangley Rd at Minot AFB where Dale and I lived at the time.  That was the last time it stood in a dining room in my home — it has always shared a spot in the living room with whatever other furniture had to be moved when it was needed as a table.  Its drop-leaf feature allowed me to keep it in several homes through 30 years.  (That same feature requires anyone sitting at this table to fight with its legs.)  When Ron and Pam arrived in Winchester almost 20 years ago with a waterbed and little else, I quickly decided that the maple table had a new home.  As you may have guessed, I have had a 50-year (and 50-pound) relationship with this table.  It has been the bearer of many good meals and the center of many good conversations. But blessings even greater than those come from being face to face with people around this old table.  On Wednesday evenings we gather around that table to pray for members of our Meeting, our community, and for many other concerns. And oh yes, we have Prayer Soup or Intercession Salad.  There always seems to be room for more people around "Ellen's Table." Perhaps you should come and see.