Friendly Reminder  

December 2019
Winchester Friends Church   

124 E. Washington     Winchester, IN  47394

    765-584-8276
In every way possible, Winchester Friends seeks to carry out its calling to make Christ known through meaningful worship, obedient witness, and sacrificial service, welcoming all who are willing into friendship with God and into redemptive community together.
Advent at Winchester Friends
 Please join us in worship at 9:15 AM each Sunday during Advent (December 1, 8, 15, 22) to reflect upon the Messiah's role as the "great light" who would dawn upon "the people walking in darkness" and "living in the land of the shadow" of separation from God (Isaiah 9:2) — and upon John's eyewitness account of  the "true Light coming into the world to give light to every person" (John 1:9).  School kids know that shining light through a prism will separate the energy into its various wavelengths that appear to our eyes as distinct colors.  In that spirit, we will consider the many "wavelengths" of the full-spectrum Light of the World — light that invites and gives hope; light that gives life and nurtures growth; light that searches, exposes, and reveals; light that enlightens and instructs; light that leads and guides; light that heals; light that protects; and other impacts of Christ's light that enable us to stop walking in darkness.  Please come each Sunday of Advent to explore the gift of the full-spectrum Light of the World.
 Thank you to the Welcome Class and other helpers who decorated the meetinghouse for Christmas on November 30, and to all who have provided the beautiful memorial poinsettias in the sanctuary. 
Christmas Card Exchange Table
Throughout December, Friends are welcome to save postage expense by bringing your Christmas cards for others in the Meeting to the Card Exchange Table in the parlor.  Please be sure to check the table each Sunday in December to see if there are items waiting there for you.
Personal Advent Stories
Each December, the Ministry & Oversight invites Friends during a Sunday morning meeting for worship to tell their personal Advent story of how Christ arrived (or has continued arriving) into their life, and to put an ornament on the parlor Christmas tree that symbolizes that story.  If you feel led to share or update your personal Advent story during worship in December, please let the church office know so it can be scheduled.  All Friends are encouraged to watch for  opportunities this Christmas to tell others how Christ arrived into your life.
December Committee Meetings
In order to free up time for Christmas and New Year's activities, the church's standing committees do not plan to meet this month.  If any committees encounter a need to meet before January, they may do so at the call of their clerk.
Holiday Dinner December 8
The church family will celebrate Thanksgiving and Christmas with a feast on December 8, immediately following Sunday School at around 11:30 AM.  The Fabulous Friends and Parsonage classes are hosting the dinner and will provide the meat courses, mashed potatoes and dressing, bread, drinks, and table service.  All who attend are asked to bring (if you are able) vegetables, salads, casseroles, and/or dessert dishes to share with everyone potluck-style.  The USFW will have their giant offering stocking at the start of the serving line to receive Friends' donations to their project of providing Christmas gifts for a cottage of kids at White's Residential & Family Services near Wabash.  Please invite a friend who doesn't have a church family to come worship and feast with yours on December 8!
Christmas Program & Holiday Desserts
The joint Winchester/Rural Friends/Nazarene choir will present the Christmas cantata Love Came Down at Christmas (Joel Raney) at Winchester Friends on December 15 at 6:30 PM.  The service will conclude with a candlelight meditation, followed by sharing of everyone's favorite Holiday Desserts in the dining hall downstairs.  Please invite a friend, bring some favorite Christmas sweets or savory finger-foods to share, and join us for an evening of worship, Christmas music, and fellowship.
Christmas Cantata Choir Rehearsals
Wednesdays  December 4, 11  —  7:00 PM
       Saturday         December 14   —  2:00 – 4:00 PM
4th Sunday of Advent December 22
Cinnamon rolls and drinks will be served in the parlor after worship on December 22.  Please plan to fellowship with Friends there, then move to a Sunday School class to finish your spiritual preparations for Christmas!

United Society of Friends Women
  —The USFW thus far this Christmas has designated $750 to go to the Community Christmas Food Baskets, and $750 to the OVG Gas Help Fund.  They also will make sure the Holiday Dinner offering to White's Cottage No.6 totals at least $250.
  —The USFW will meet on Wednesday December 11 from 10:00 AM – 1:00 PM for a workday to make pads for the pad project for school girls in Africa.  USFW also is collecting packages of small, colored underpants for the school girls.  Ladies who attend will share a pizza lunch together. 
  —Winchester's USFW has invited other Randolph County USFW groups to join us for fellowship and tea on Saturday January 11 at 2:00 PM at the Randolph County Historical Society.
Our Sympathy
to Terry Ketring, Alan Ketring, and all in their family mourning the death of our Friend Mary Ketring on November 6 at Reid Hospital in Richmond after a lengthy illness.  A memorial service for Mary is being planned for a later date when distant family members will be able to gather.
New Sunday School Quarter
The Christian Education Committee urges all Friends to increase your biblical literacy by attending a Sunday School class each week.  Starting December 1, the Welcome and Parsonage classes will be taking up a three-month study titled "Love Leads to Freedom" from the Friends Illuminate quarterly, based on the New Testaments books of Galatians and Romans.  The Fabulous Friends class will continue working through its study and discussion of Soul Keeping:  Caring for the Most Important Part of You, a book and DVD by John Ortberg.  There is a class that would be glad to welcome you — please join us!
Community Christmas Food Baskets
Winchester's Community Christmas Basket program welcomes area churches' participation in helping up to 350 local families needing assistance during the holidays.  The Christmas Basket Committee welcomes  donations of money (mail to PO Box 51, Winchester 47394) and/or canned and dry food items (deliver to 4-H fairgrounds by December 10).  Volunteers are invited to help sort and count the food items at 6 PM on Wednesday December 11 at the 4-H fairgrounds; to pack the boxes there on Monday December 16 at 6 PM; and to deliver the food boxes from the fairgrounds starting at 9 AM on Saturday December 21.  Contact AnnMarie Browne (765-584-3666) for more information.
________________________________________________

 Please keep the church office updated with your address, phone,
e-mail, and birthday and anniversary information.
________________________________________________
Gideons International Sunday
Thank you to all who attended worship on November 17 to hear guest speaker Terry Green's update on the Gideons' ministries.  The Gideons challenge us to be an active part of making God's Word accessible and known to others by knowing it ourselves, living it every day, and sharing it as we have opportunities.  Thanks also to everyone who donated a total of $300 to the "open Bible" offering to support the local Gideons' Bible placement ministry, and to all who took on extra responsibilities that day to enable the Fergusons to attend FCNL's annual general committee meetings in Washington DC.
Congratulations!
to Lois Hogg, who recently celebrated one of those milestone birthdays with a zero on it.  She was born on November 16, 1929 — we'll let you figure it out.
Churches & Community Food Pantry
The Pantry served 349 households in November 2019, compared with 388 families assisted in October 2019 and approximately 355 served a year ago in November 2018.
Monthly Greeter Sign-Up
One role of the Ministry & Oversight is to recruit Friends for the important (but too often unsung) ministry of being present at the meetinghouse east entrances on Sunday mornings to greet arriving Friends and to welcome newcomers and direct them into the sanctuary.  Marsha Kritsch has been doing that recruiting this year and would appreciate your help.  She has placed a sign-up sheet in the sanctuary parlor for volunteers to take an upcoming month to serve as a Sunday morning greeter.  Please help Marsha out by signing the sheet, or contact her directly to volunteer as a greeter in 2020.
Celebrate the Arts
There is a second sign-up sheet in the parlor for Friends to sign to choose a date to share your musical or nonmusical (painting, photography, poetry, handicraft, etc.) artistic abilities in praise to the Lord during worship on Sundays when the choir does not sing.  God has given you talents and gifts — please use them to glorify him!
Get Personally Involved in Missions!
Pennies From Heaven $10 bills are available from the Missions & Social Concerns Committee, to be carried with you until prompted by the Spirit to share it with someone needing a bit of help and a reminder of God's love.  Shareholders in Shalom "seed money" also is available from the Committee to help Friends obtain materials/ingredients for making items to be sold to "grow" the seed money into financial support for Christian agencies working for peace.  Contact the church office for help getting started.
2019 Christmas Envelope Offering for Missions
Friends are invited during December to give an extra donation for local and global outreach, either by using the special Christmas Offering envelope inserted in the bulletin on December 1, or by clearly specifying your gift as "Christmas Missions Offering" before placing it in the collection plate or delivering it to the church office.  The Missions & Social Concerns Committee has again recommended that the 2019 Christmas Envelope Offering be shared between local and global ministries. 
The local outreach will include the Ohio Valley Gas Co. matching Gas Help Fund to help area residents afford winter heating, and the Churches & Community Food Pantry.  For global outreach, the Missions & Social Concerns Committee learned at their November meeting of a deeply concerning financial crisis at Friends United Meeting's Belize mission (where Winchester Friends have worked and visited in recent years) that saw the Friends School there unable recently to meet its payroll.  The Committee would like at least $500 to go to help meet this need.
The Christmas Envelope Offering goal is to gather at least $500 in donations, which then will be matched by a $500 Best Special Projects grant.  That would enable the sharing of $500 between Gas Help and the food pantry, and $500 to be sent to help Belize Friends Mission.  Please give prayerful consideration to making a generous donation towards the $500 goal.  Thank you for tangibly sharing Christ's love at Christmastime!
2019 Compassion Garden Total
Friends donated approximately $400 over the summer and fall for vegetables from the Compassion Table in the meetinghouse annex.  Much of the produce was grown in the Compassion Garden along the sides of the church's parking lot, and a significant amount also was brought in from Friends' home gardens.  The money will be sent to Heifer International for their work providing livestock and training to low-income people in developing countries.  Thank you to everyone who added produce to the table this year, and to all who donated for vegetables taken home (and hopefully enjoyed!).
Community Angel Tree Project
Friends who have picked up Angel Tree angels to provide gifts for local income-qualified families' children this Christmas are requested to please turn in the unwrapped gifts to the Ohio Valley Gas Co. office downtown by Wednesday December 11.
**********************************************************
Winchester Friends Church             765-584-8276
124 E. Washington St.        Winchester, IN 47394
www.winchesterfriendschurch.org
**********************************************************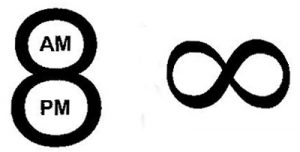 Pray at Eight – Pray Without Ceasing

for people struggling against substance abuse and addiction, and for the people working to help them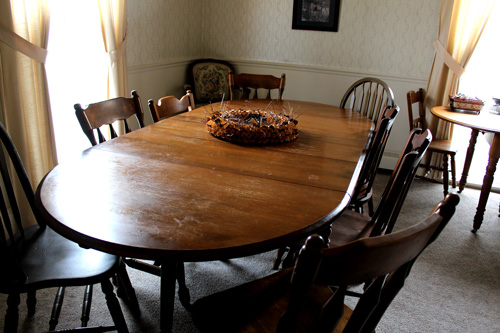 The Lord's Table, Not Ellen's
The very best "face time" is around an old maple table of mine that now sits in the dining room of the parsonage. That table began as a tree in a north woods and stood there far longer than it has been a table.  I first saw it in a furniture store in Minot, North Dakota, in 1967.  I was convinced that it should stand in a dining room on Tangley Rd at Minot AFB where Dale and I lived at the time.  That was the last time it stood in a dining room in my home — it has always shared a spot in the living room with whatever other furniture had to be moved when it was needed as a table.  Its drop-leaf feature allowed me to keep it in several homes through 30 years.  (That same feature requires anyone sitting at this table to fight with its legs.)  When Ron and Pam arrived in Winchester almost 20 years ago with a waterbed and little else, I quickly decided that the maple table had a new home.  As you may have guessed, I have had a 50-year (and 50-pound) relationship with this table.  It has been the bearer of many good meals and the center of many good conversations. But blessings even greater than those come from being face to face with people around this old table.  On Wednesday evenings we gather around that table to pray for members of our Meeting, our community, and for many other concerns. And oh yes, we have Prayer Soup or Intercession Salad.  There always seems to be room for more people around "Ellen's Table." Perhaps you should come and see.