Friendly Reminder    

Winchester Friends Church   

124 E. Washington     Winchester, IN  47394

    765-584-8276
In every way possible, Winchester Friends seeks to carry out its calling to make Christ known through meaningful worship, obedient witness, and sacrificial service, welcoming all who are willing into friendship with God and into redemptive community together.
New Church Year
The 2019-2020 church year began on July 1, with new and renewed appointments of Meeting officers and committee members for July '19 to June '20 taking effect.  Please remember to attend your committee's July meeting!  The new roster is posted on the meetinghouse annex bulletin board, and copies will be available from the church office.  The Personnel Committee reminds everyone that opportunities to serve and participate are available all year long.  If you've not yet accepted a committee assignment but would like to get involved in the Meeting's ministries, please contact the church office.
Best Special Projects 2019-2020
A proposal from the church's Clerks & Officers for use of $20,500 of Best Trust funds to "make God's love visible and tangible beyond ourselves" will be presented by the Clerks & Officers for approval at the July 7 Monthly Meeting for Business.  Each spring, Winchester Friends receives a distribution of funds left to the Meeting from the perpetual trust of deceased Friends Bashia and Ed Best.  The church uses part of this money for its in-house needs, but Friends agreed together in 2001 to begin giving a substantial portion of it each year to encourage and strengthen ministries beyond ourselves in the community and world around us.  Whenever possible, those ministries are ones in which our own Friends are significantly involved. Since 2001, over $275,000 has been invested in such ministries by Winchester Friends.  The recipients proposed for 2019-20 funds include matching grants for the Christmas and Easter missions offerings; the hospice ministries of State of the Heart Care, Ball Memorial Hospital, and Reid Hospital; Jay-Randolph Developmental Services; Friends Committee on National Legislation and Indiana Friends Committee on Legislation; Friends Fellowship Community's retired ministers' fund; Earlham School of Religion's scholarship fund and Earlham College's campus ministry program; Friends United Meeting's publishing work through Quaker Life magazine; Hoosier Interfaith Power & Light's environmental stewardship work; funds to subsidize missions trips by Friends; money for local benevolence through the Matthew 25:40 Fund administered by our social services volunteer; and funds for compassionate response to natural disasters.  Some funds are still available for Friends' creative new ideas for blessing the world around us in the name of Christ in 2019-20.  Please speak with a committee clerk or Meeting officer if you sense such a leading.
Bell Tower Repairs
The Trustees' primary 2019 summer project will be the repair of the flat roof atop the meetinghouse bell tower.  For many years, a combination of birds, snow, ice, and other weather-related wear and tear has caused drainage problems off the rubber membrane that covers the rooftop.  As a result, standing water has seeped into the levels below, threatening damage to the wooden decking and other structures.  In July, a roofing company from Spencerville, IN, will repair the topmost deck, upgrade the drainage capacity, and apply a synthetic liquid roofing system (which carries an 18-year warranty) to properly seal the entire roof area.  In the fall, another construction crew has been scheduled to restore the wooden window frames on the bell level, install new plexiglass, and replaster spots on the interior walls needing attention near the top of the tower. 
USFW  News
USFW Officers for 2019-20    At their June meeting, the USFW elected officers for the new year as follows:  president Linda Groth, vice president Nita Burton, secretary Janet Ross, treasurer Marsha Kritsch.
USFW Benevolence     $250 was given to FUM's Summer Missions Project to provide physical improvements for handicapped access at Ramallah Friends School.  Over the past year, the USFW gave $750 to the Gas Help Fund, $750 to Community Christmas Food Baskets, $250 to a White's cottage for kids' Christmas gifts, $475 for local Angel Tree gifts, in addition to helping with five funerals and providing the Mother's Day Celebration dinner and the Father-Family Luncheon.
Apple Dumpling Project    The 2019 apple dumpling project will start with a workday to make the dumplings on Saturday September 28.  Dumplings will be baked for Winchester's Mardi Gras fall festival on Oct. 2-5.  Please mark your calendar and plan to help out to enable USFW to raise support for the above ministries — thanks!
First Fall 2019 USFW Meeting   After the summer break, the USFW will meet in the meetinghouse basement at 1:30 PM on the second Wednesday of upcoming months, beginning September 11.
Congratulations!
to Tim Hart on his July 1 retirement from his longtime employment as a loan officer at First Merchants Bank in Winchester
Personal Involvement in Missions
Friends (junior high and older) are invited to request Best Special Projects funds from the Missions & Social Concerns Committee for two opportunities to personally, tangibly express Christ's love:
Pennies From Heaven participants accept a $10 bill to carry in their wallet with the expectation that the Lord will guide them to give it spontaneously to another person in a situation of genuine human need.  Stapled to the cash is a small coupon stating, "This gift is from the people who worship at Winchester Friends Church, given in the love of Christ with hopes of meeting a genuine need and reminding you of the kindness and compassion of God."
Shareholders in Shalom participants take between $10-$50 of "seed money" (depending on the amount needed to begin the proposed project) to be invested and "grown" by adding the participant's skills and time, and then to be returned with the increase to help fund peace/nonviolence work in situations of conflict around the world.  In past years, Friends have produced food items and handicrafts for sale, sold used books and energy-saving light bulbs, mowed lawns, and repaired electronics to "grow" money for peace.
Pennies and Shareholders participants agree to write a very brief report on how they gave or invested the money they received.  Both programs' funds have been replenished to $500 for the new 2019-2020 church year.  Come get personally involved in missions!
Our Sympathy
to Mary Ketring, her sons Terry and Alan Ketring, and all in their families mourning the death of our Friend Reed Ketring on June 26 at Randolph Nursing Home in Winchester.  A service of remembrance for Reed will be held at Winchester Friends in August when distant family members' work and travel schedules allow their attendance. 
Camp Encourage July 12-14
Camp Encourage is a free grief support ministry of State of the Heart Hospice Care for eastern Indiana and western Ohio kids age 6-15 who are mourning the death of a loved one.  It will be held at the Montezuma Retreat House Center in Ohio from July 12-14.  Winchester Friends' Best Special Projects list includes a $500 grant to cover the cost of one child to attend.  Camp Encourage is a weekend of good food, fun activities, and dialogue with trained adult counselors about the kids' feelings of grief and loss.  For more information, please call State of the Heart at 800-417-7535.  Our Friend Al Groth is a past president of the State of the Heart Care board of directors and usually a counselor at Camp Encourage.  Although Al's recent surgery likely will prevent his serving in that role this year, Friends are encouraged to pray for his colleagues and the campers at Camp Encourage this month.
Community Food Pantry Update
During June 2019, the Churches & Community Food Pantry served 319 households.  For comparison, 327 households were served in May 2019 and 340 families were helped one year ago in June 2018.
18th Annual Compassion Garden
Despite late planting due to the spring's erratic weather, a variety of vegetables and herbs now are growing in this year's Compassion Garden along the east and south sides of the church's parking lot.  Watch for Compassion Garden produce in the annex each Sunday morning this summer.  Friends' donations for the vegetables will be sent to support Heifer International and other hunger relief and poverty mitigation ministries.  Unsold vegetables usually go to the Churches & Community Food Pantry.  Friends also are welcome to add extra produce to the Compassion table from your home garden this summer, if you'd like to help raise funds to fight hunger.
New KIVA Microloans
The Missions & Social Concerns Committee in late June made two new KIVA loans.  $300 went to Sahar, a 53 year-old married woman who lives with her family in a village near Jenin, West Bank, Palestine (about 45 miles north of the Friends School at Ramallah), and runs a small store selling women's clothing.  Sahar needs the loan to increase her inventory and sales in order to better provide for her family.  This loan supports the empowerment of traditionally marginalized Palestinian women.
A loan of $400 went to Maria, a 58 year-old married mother of four in northern Honduras (in the region of Belize Friends Mission) who operates a small grocery/general store selling a variety of foods, cleaning products, gardening tools and supplies, and other goods.  Her income helps support herself and her husband, her children, and her grandchildren.  She sought this loan to increase her stocks and grow her business.  This lending agency also provides its borrowers financial education and help in starting a savings account.  Starting from $4000 of Best Special Projects grants, Winchester Friends has now loaned $31,725 to 89 borrowers in the regions of Friends United Meeting's missions sites (East Africa, Palestine, Cuba, Belize, and Jamaica).  To learn about all our past and current loan partners and see their progress, go to .  Click on "Teams" beneath "Community" at the bottom of the page, then type Winchester Friends into the "Search Teams" box and click "search."  Click on the photo of our meetinghouse, then on the "Loans" tab at the top of the next page to see all our loan partners.
Choir Resumes September 4
In the meantime, please sign the Celebrating the Arts sheet in the sanctuary parlor to select a date to share your musical or nonmusical artistic abilities in praise to the Lord during summer Sunday meetings for worship.
Friendship Sunday is September 22
It's not too early to start thinking and praying about friends and neighbors (particularly ones who are not currently part of a faith community) whom you cold invite to this year's outdoor meeting for worship and Fall Picnic at the county fairgrounds south of Winchester.  Even better, invite them to join us in worship now!
___________________________________________________
Please remember to keep the church office updated on birthday and anniversary
 information, and any e-mail, phone, or address changes.
___________________________________________________
Fall 2019 Missions Focus:  Jamaica Yearly Meeting
During the first half of each year, the Missions & Social Concerns Committee asks Friends to focus on a contemporary social concern.  In the latter half of each year, we call Friends' attention to one international missions effort of Friends United Meeting.  For the fall of 2019, that focus is upon Quaker presence and ministry since 1881 on the Caribbean island of Jamaica.
       Jamaica is an island nation just south of Cuba in the Caribbean Sea.  It is home to 2.8 million people and measures 145 miles east to west, 50 miles north to south at its widest point, making it slightly smaller than Connecticut.  Jamaica is the third-largest island in the West Indies, smaller only than Cuba and Hispaniola (Haiti/Dominican Republic).  Half of Jamaica's area is mountainous; its highest peak is Blue Mountain at 7402 feet.  Jamaica means "land of wood and water," an apt name for the island described by Christopher Columbus after his 1494 visit as a place filled with lush foliage, tropical fruits, forested mountains, and exotic birds.  Spanish entrepreneurs and settlers followed Columbus and established plantations to export various products to Europe during the 16th and 17th centuries.  Much of the hot, difficult agricultural work was done by African slaves and indentured servants brought from India. 
       England's competition for colonizing the New World led to armed conflict with Spain, and in 1650 the English navy took Jamaica from Spain.  Among the English settlers who quickly replaced the Spanish on Jamaica were a number of Quakers seeking religious freedom and opportunities for evangelism and ministry to the island's slaves.  When Friends founder George Fox visited Jamaica in December 1670, he was welcomed by around 9000 Quakers and helped them establish seven Friends Meetings before he left in February 1671.  He urged humane treatment and spiritual ministry for the slaves and encouraged Friends to set up schools for the slaves' children.
       England controlled Jamaica from 1650 until granting it independence in 1962. English is the
island's official language.  Locals use an English dialect called patois (PA' twah) in everyday conversation.
       Friends United Meeting's ministries in Jamaica can be traced back to 1881 through the work of Evi Sharpless, a missionary from Iowa Yearly Meeting.  Those Friends' earliest efforts included concern for the especially poor descendants of Indian indentured servants and other rural Jamaicans on the eastern half of the island.  Schools and orphanages were set up, and several Friends chapels or meetinghouses were built.
**********************************************************
Winchester Friends Church             765-584-8276
124 E. Washington St.        Winchester, IN 47394
www.winchesterfriendschurch.org
**********************************************************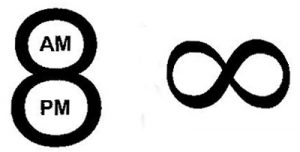 Pray at Eight – Pray Without Ceasing

for people struggling against substance abuse and addiction, and for the people working to help them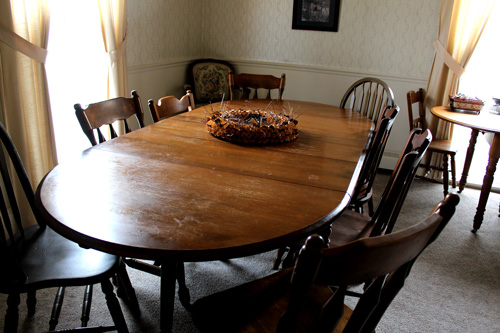 The Lord's Table, Not Ellen's
The very best "face time" is around an old maple table of mine that now sits in the dining room of the parsonage. That table began as a tree in a north woods and stood there far longer than it has been a table.  I first saw it in a furniture store in Minot, North Dakota, in 1967.  I was convinced that it should stand in a dining room on Tangley Rd at Minot AFB where Dale and I lived at the time.  That was the last time it stood in a dining room in my home — it has always shared a spot in the living room with whatever other furniture had to be moved when it was needed as a table.  Its drop-leaf feature allowed me to keep it in several homes through 30 years.  (That same feature requires anyone sitting at this table to fight with its legs.)  When Ron and Pam arrived in Winchester almost 20 years ago with a waterbed and little else, I quickly decided that the maple table had a new home.  As you may have guessed, I have had a 50-year (and 50-pound) relationship with this table.  It has been the bearer of many good meals and the center of many good conversations. But blessings even greater than those come from being face to face with people around this old table.  On Wednesday evenings we gather around that table to pray for members of our Meeting, our community, and for many other concerns. And oh yes, we have Prayer Soup or Intercession Salad.  There always seems to be room for more people around "Ellen's Table." Perhaps you should come and see.