Friendly Reminder  

                                                  March 2020
Winchester Friends Church   

124 E. Washington     Winchester, IN  47394

    765-584-8276
In every way possible, Winchester Friends seeks to carry out its calling to make Christ known through meaningful worship, obedient witness, and sacrificial service, welcoming all who are willing into friendship with God and into redemptive community together.
Daylight Saving Time Begins March 8
Don't forget to set your clocks and timers ahead one hour at bedtime on Saturday March 7 for the start of 2020's Daylight Saving Time at 2:00 AM on Sunday March 8.  Public safety officials urge everyone also to check or replace the batteries in smoke and carbon monoxide detectors while resetting clocks.  Change your clocks on Saturday night and retire a bit early so you can rise refreshed and prepared to join Friends for worship at 9:15 AM Eastern Daylight Saving Time on Sunday morning March 8.
Devoted to the Apostles' Teaching?
On March 1, the Welcome/William Penn Class taught by Cleo McFarland and the Parsonage Class taught by Ron Ferguson begin a new Illuminate (Barclay Press) quarter of lessons titled "Following God Together," a study of the Israelites' trek from enslavement in Egypt through the Sinai wilderness to the Promised Land.  This month, those lessons are:
March 1   Serving God in Community   Deut. 7, Num. 3
March 8    A Covenantal Community    Leviticus 16, 26
March 15           God Speaks           Numbers 13, 14, 22
March 22         God's Promises         Deuteronomy 4, 31
March 29            Loving God         Deuteronomy 5, 6, 10
 The Fabulous Friends Class taught by Pam Ferguson will continue with its study and discussion of the Soul Keeping book and DVD. If you're not currently studying the Bible with others, please choose a class and come join us at 10:30 AM each Sunday!
Congratulations!
As of March 13, Austin and Letha Cox have been married for 50 years!  Their children invite you to help them celebrate their golden anniversary in these ways:
1. Attend an
open house
for them and enjoy refreshments and fellowship with them on
Sunday March 15
from 2:00-4:00 PM at Friends Fellowship Community in Richmond.
2. Shower them with
cards:
2030 Chester Blvd #42, Richmond, Indiana 47374
3.
Call or email
to catch up or share a memory:
 765-488-2301 or
letha6@comcast.net
_________________________________________________________________
Please keep the church office updated with your current address,
phone, email, and birthday and anniversary information.
_________________________________________________________________
Thank You
to Doug Simmons, Shane Hall, and possibly unseen others for their help with snow and ice removal around the meetinghouse and parking lot in February —
it was greatly appreciated!
USFW Meeting March 18
The USFW will meet at the church on Wednesday March 18 at 10:00 AM for business and to prepare for the spring rummage sale.  A light lunch will be served around Noon.  All ladies are invited, and all help will be welcomed.
USFW Spring Rummage Sale March 21
The USFW's annual rummage sale will be held in the meetinghouse basement on Saturday March 21 from 8 AM to 2 PM.  This event raises funds for USFW's missions and outreach efforts, recycles still-useful goods, and provides helpful bargains to area residents.  Volunteers are welcome to help conduct the sale — contact the church office for details.  Kitchen and household items, furniture, electronics, clothing, and other donated sale items may be brought to the meetinghouse until March 18.  If you need help transporting donated items to the meetinghouse, please phone the church office.
Easter Memorial Flowers
Friends are invited to place spring chrysanthemums or possibly other potted flowers as memorials to decorate the sanctuary for Palm Sunday (April 5) and Easter (April 12).  In consideration of Friends with allergies, we will not be placing live Easter lilies.  You may order a potted mum ($7 per plant.) by signing the sheet  in the sanctuary parlor or phoning the church office by Thursday March 19 (order to be submitted on March 20).
Easter Offering for Outreach
In gratitude for the mercy of God we celebrate at Easter, Winchester Friends invites a special Offering for Outreach (global and local) during this season of Lent.  Special envelopes for this offering will be distributed in mid-March, or you may clearly designate your gift "Easter Outreach Offering" and place it in a Sunday offering plate.  Please prayerfully plan to make a special Easter missions contribution in March or April.
Personnel Committee
The Personnel Committee will meet on Monday March 9 at 7:00 PM at the church to begin its work of matching Friends' spiritual gifts and interests with ministry opportunities available through the committees and other work of this faith community for the 2020-2021 church year that begins in July.  Please begin now to pray for the Personnel Committee's work, and for the Lord's leading regarding your place of ministry in our fellowship — and then be faithful when you receive their call in the weeks ahead.  "Work willingly at whatever you do, for you are working for the Lord rather than for people." (Colossians 3:23)
Winchester Friends Membership
Some leadership and committee positions the Personnel Committee seeks to fill this spring require Adult Membership in the Meeting.  If you attend Winchester Friends but have not sought official Meeting membership, the Ministry & Oversight encourages you prayerfully to consider it.  A packet of application materials is available upon request.
Trustees Spring Workday March 28
The Trustees invite all able-bodied Friends to come help with the annual spring cleanup around the meetinghouse (both indoor and outdoor work) on Saturday morning March 28.  There will be jobs everyone can do — come lend a hand!  Please bring yard tools if possible.  All workers are welcome to start the morning with a free breakfast at 8 AM in the church basement.  The bad weather backup date for outdoor work will be Saturday April 4.
Congratulations & Bon Voyage!
IUPUI senior Kendra Holliger learned in late February that she has been chosen as one of the university's top 100 students for 2020.  Kendra will complete her bachelor's degree this spring and will enter IU's School of Dentistry this summer.  Congratulations, Kendra!
During her spring break, Kendra will be traveling to the Dominican Republic with an IUPUI group from March 13-20 to help low-income families with housing construction and improvement, public health concerns, and other work.  A Winchester Friends Best Special Projects missions trip grant will help with part of her travel expenses.  In exchange, Kendra has promised to report on her experience to the church later this spring, so watch for announcement of that event, and don't miss it!
Churches & Community Food Pantry
The Pantry served 280 households during February.  For comparison, 360 families were served the previous month in January 2020, and 301 households were assisted a year ago in February 2019.  Thank you to all who are donating, volunteering, and helping in other ways with this ministry!
Friends are invited to attend the Pantry's annual meeting on Thursday March 12 at 5:00 PM at the Shalom Center to hear summary reports on the Pantry's 2019 efforts and plans for its ministries in 2020.  Light refreshments will be served following the meeting.
Our Sympathy
—to Austin and Letha Cox and their family mourning the February 5 death of their grandson Sam Eley of Winchester, age 27
—to Keith and Judy Kendall and all in their family mourning the February 14 death of Keith's sister Florence Peery, age 91, at Quaker Haven near Syracuse, IN
Sweet Dreams for Local Kids
The Missions & Social Concerns Committee in their January and February meetings learned about a new project in which local people with carpentry skills are volunteering to build beds for Randolph County kids age 3-15 who do not have one.  The project depends on donations for the purchase of wood, hardware, finish, mattresses, and bedding.  After carrying it as a prayer concern for a month, the Committee approved in February recommending to Monthly Meeting a 2019-2020 Best Special Projects grant of $500 to support this project.  The Committee also learned that the project has delivered 20 beds but has a waiting list of 60 more kids, and that some bed frames were ready but were awaiting funds for mattresses.  In faith, the Committee recommended going ahead to issue the grant.  Friends may see Sweet Dreams' letter of thanks in the notebook on the southwest parlor table in the sanctuary.
Public Policy Priorities Discussion
The Missions & Social Concerns Committee will spend time at their next meeting on March 15 at 11:20 AM (William Penn Room in the annex) discussing and discerning a list of seven spiritual concerns which Friends would like to see considered and incorporated into Congress' process of legislating national public policy.  Those seven priorities will be sent to Friends Committee on National Legislation to help our advocates there determine which issues American Quakers want them to focus their time and resources upon as they work with the 117th Congress that will be elected next November.  The committee invites interested Friends to join them for this meeting.
2020 Earth Hour on March 28
All Friends are encouraged to participate in the 14th annual
Earth Hour
by turning off all lights and consuming as little electricity as possible
between 8:30 PM and 9:30 PM on Saturday evening March 28.
  The event symbolizes the fact that by working together, the world's people can make a positive impact in the fight against human-caused climate change.  Sponsored by World Wildlife Fund,
Earth Hour
was first observed in 2007 when 2.2 million people darkened Sydney, Australia, for an hour.  It has grown each year since then.  By 2019, millions of people in over 7000 cities and towns in at least 187 countries and territories, plus the International Space Station, switched off their lights for
Earth Hour
.  The event itself makes only a negligible dent in a year's global carbon emissions, but it sends a powerful symbolic message of the importance of collaborative action on climate change.  WWF's goal is to build a truly global community committed to creating a more sustainable planet.  For more information, go to <
www.worldwildlife.org/pages/earth-hour
>.
Spring 2020 Social Concerns Focus
Practical Spiritual Responses to Climate Change
The Missions & Social Concerns Committee has selected climate change for our focus during the first half of 2020,
with particular attention to actions each of us can actually take to be a part of the solution.
In Here Comes the Garbage Barge, a children's book featuring the artwork of Chris Sickels (nephew of Marsha and Tony Kritsch), the captain of a barge carrying a load full of garbage sails up and down the East Coast looking for someone to take the trash. No one wants it.
This children's book is based on a true story. A barge full of New York City trash was unwelcome in every port. It's a problem that continues today in countries around the world. More garbage than places to put it. Or places we don't want to spoil with garbage. So perhaps the answer to not finding space to put our trash is to Reduce, to make less trash. After all, I don't believe that when God handed over the care of the world to us, he intended for us to turn it into a spherical garbage pit.
Here are some ideas from the Environmental Protection Agency:
—Paper or plastic? Neither! Reusable shopping bags are a great way to keep plastic bags from releasing toxins into the ground or clogging up sewer systems.
—Buy used. You can find everything from clothes to building materials at specialized reuse centers and consignment shops (and USFW rummage sales). Often, used items
    are less expensive and just as good as new.
—Look for products that use less packaging. When manufacturers make their products with less packaging, they use less raw material. This reduces waste and costs.
    These extra savings can be passed along to the consumer. Buying in bulk, for example, can reduce packaging and save money.
—Buy reusable over disposable items. Look for items that can be reused; the little things can add up. For example, you can bring your own silverware and cup to work,
    rather than using disposable items.
—Maintain and repair products like clothing, tires and appliances, so that they won't have to be thrown out and replaced as frequently.
—Borrow, rent, or share items that are used infrequently, like party decorations, tools or furniture.
Keep checking out the Missions bulletin board in the annex as we continue to add ideas for Reduce, Reuse, and Recycle. And if you come across something to share, please let us know.
–Deborah Lilly, for the Missions & Social Concerns Committee
**********************************************************
Winchester Friends Church             765-584-8276
124 E. Washington St.        Winchester, IN 47394
www.winchesterfriendschurch.org
**********************************************************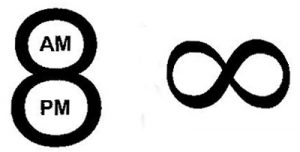 Pray at Eight – Pray Without Ceasing

for people struggling against substance abuse and addiction, and for the people working to help them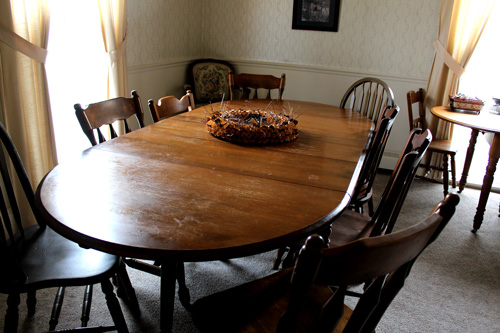 The Lord's Table, Not Ellen's
The very best "face time" is around an old maple table of mine that now sits in the dining room of the parsonage. That table began as a tree in a north woods and stood there far longer than it has been a table.  I first saw it in a furniture store in Minot, North Dakota, in 1967.  I was convinced that it should stand in a dining room on Tangley Rd at Minot AFB where Dale and I lived at the time.  That was the last time it stood in a dining room in my home — it has always shared a spot in the living room with whatever other furniture had to be moved when it was needed as a table.  Its drop-leaf feature allowed me to keep it in several homes through 30 years.  (That same feature requires anyone sitting at this table to fight with its legs.)  When Ron and Pam arrived in Winchester almost 20 years ago with a waterbed and little else, I quickly decided that the maple table had a new home.  As you may have guessed, I have had a 50-year (and 50-pound) relationship with this table.  It has been the bearer of many good meals and the center of many good conversations. But blessings even greater than those come from being face to face with people around this old table.  On Wednesday evenings we gather around that table to pray for members of our Meeting, our community, and for many other concerns. And oh yes, we have Prayer Soup or Intercession Salad.  There always seems to be room for more people around "Ellen's Table." Perhaps you should come and see.