Friendly Reminder   

Winchester Friends Church   

124 E. Washington     Winchester, IN  47394

    765-584-8276
In every way possible, Winchester Friends seeks to carry out its calling to make Christ known through meaningful worship, obedient witness, and sacrificial service, welcoming all who are willing into friendship with God and into redemptive community together.
Mother's Day Celebration May 7
The United Society of Friends Women will hold their annual Mother's Day Celebration dinner and May meeting on Tuesday May 7 at 6:00 PM.  A fried chicken meal (freewill offering) will be catered by Bouser's Barn of Union City in the dining hall downstairs.  After dinner, a program of music will be presented in the sanctuary by young women from the local high school music department.  Reservations for Friends women and invited guests are needed by Sunday May 5 — please contact Nita Burton (584-7997) or Bettye Monks (584-8493).
Indiana USFW Spring Gathering
Indiana USFW's Spring Gathering will be held at Winchester Friends on Saturday, May 11.  Registration will be at 9:30 AM, and the meeting begins at 10:00 AM.  The speaker will be Sarah Lookabill of Western Yearly Meeting. Sarah will share updates on FUM's work at Belize Friends School.  A simple lunch will be available after Sarah's presentation. Please contact Pam Ferguson or Ellen Craig if you are interested in attending.
Happy Mother's Day!
Please honor your mother and the other nurturing women in your life by giving thanks to God for them in the company of Friends during worship at 9:15 AM on Mother's Day, May 12!  Bring your mom — and some friends, too — for worship, fellowship, reflection upon scripture, and small gifts for all the women in the Meeting.  Please join us!
USFW in June
Father-Family Luncheon June 9   The USFW women will provide a free lunch for Friends right after Sunday School on June 9 to honor all the fathers and other ministering men in our Meeting.  Men, bring your kids to church and lunch that day!
June USFW Meeting    The USFW will meet Wednesday June 12 at 1:00 PM at the meetinghouse for a business meeting to discuss and decide upon a summer project, and to consider USFW donations for the end of the church year.
________________________________________________________________
Please keep the church office updated on birthday and anniversary information,
 and any e-mail, phone, or address changes. Thanks!
_______________________________________________________________
Easter Offering for Missions Thanks!
Donations to April's Easter offering for outreach totaled $1000!  After 2018-2019 Best Special Projects matching grants of $1000 are added, the Missions & Social Concerns Committee will send at least $1000 to Christian agencies working to help people recover from damage and loss caused by recent months' destructive weather across the region and nation.  The Missions & Social Concerns Committee is exploring a local concern for helping low-income families cope with the weather-related need for heat and cooling in the reported absence of federal/state Energy Assistance Program funding.  If that need is confirmed, part of the Easter offering will be used to reinforce Salvation Army utility assistance provided through Ellen Craig via the Matthew 25:40 Fund.  Thank you for your faithful, generous stewardship!
Choir Finale May 19
During the meeting for worship on May's third Sunday, the choir will present several of the pieces they have sung since last September.  Bring a friend to enjoy a mostly-musical service of worship on the choir's last Sunday before their summer break.
Celebrate the Arts This Summer
During the choir's summer hiatus between May 19 and early September, the Music Committee invites Friends to share your musical and nonmusical artistic talents (painting or drawing, poetry, photography, handicrafts, etc.) in praise to God during Sunday morning meetings for worship.  Please sign the new Celebrating the Arts sheet in the parlor to volunteer for a Sunday, or phone the church office to confirm a date.
2019-2020 Church Committees
The Personnel Committee will present its report of 2019-2020 committees and officers for a first reading to the Monthly Meeting for Business on May 5.  They thank everyone who has agreed thus far to serve in the ministries of Winchester Friends for the upcoming church year that begins on July 1.  Some committees still have openings, and there are always opportunities to serve as a Sunday morning greeter, usher, sound board technician, or in other ways.  If you've not yet accepted an appointment but sense God's leading to get involved, please contact Marsha Kritsch or the church office to express your interest.
  Clerks & Officers Meeting in May
Each spring, Winchester Friends receives a distribution of funds left to the Meeting from the perpetual trust of deceased Friends Bashia and Ed Best.  The church at times uses part of this money for its in-house ministries, but Friends have agreed together to give a substantial portion of it each year to strengthen ministries beyond ourselves that are "making Christ's kingdom visible and tangible" in the community and world around us.  Since 2001, Winchester Friends has given around $285,000 to such ministries, whenever possible to ones in which our own Friends are significantly involved.  Over the years, these grants have supported kids attending Quaker Haven camps, subsidized missions trips to Cuba and Belize, provided scholarships to Friends ministers in training at ESR, supported Christian ministries on the Earlham College campus, assisted people recovering from natural disasters, supported Jay-Randolph Development Services and area hospice care providers, made KIVA microloans totaling over $30,000 to 86 low-income borrowers in developing countries, supported installation of a solar energy system at Friends Theological College in Kenya, and provided the Matthew 25:40 Fund to backstop Ellen Craig's Salvation Army ministry.  The Clerks & Officers will meet in late May to prepare a proposal for using Best Trust funds in these and new ways during the 2019-2020 church year.  Please give prayerful consideration to creative new Best Special Projects ideas, and share them with a committee clerk or Meeting officer soon.
Congratulations! 
to Rachael Wilson on celebrating her 80th birthday (May 15) a few days early with a reception given by her family at the Towne Square Community Centre on May 4 
Quaker Life Subscription Renewals
One ministry funded with Best Special Projects money for the past several years is a group subscription to Quaker Life magazine for active participants at Winchester Friends.  In addition to providing support for the publishing ministry of Friends United Press, this group subscription helps keep Winchester Friends informed and in touch with Friends United Meeting and the wider family of Quakers.  Our subscription renewal date is July 1.  (A) If you are part of our church's group subscription, you do not need to respond to Quaker Life's reminder postcard to keep receiving the magazine.  (B) If you are receiving the magazine but wish to stop getting it, please notify the church office soon.  (C) And if you are an active participant at Winchester Friends and are not receiving Quaker Life but would like to start, please let the church office know so your name can be added to the new list.  (D) Some Friends choose to reimburse the Best Fund for the cost of their subscription, or to purchase one for a family member.  The cost this year will remain $20 per subscription.
Our Sympathy
to the family members and friends of our Christian brother Stephen Hamilton, who died at age 83 on April 18
at Ball Memorial Hospital in Muncie after failing to recover from a surgery.
Interested in CPR Training?
The Missions & Social Concerns Committee is considering sponsoring a Red Cross cardiopulmonary resuscitation class for Friends and others.  If you would be interested in receiving this training, please let the church office know.
Community Food Pantry Update
The Churches & Community Food Pantry served 334 households (1084 persons) during April 2019.  For comparison, the Pantry served 282 households a month ago in March 2019, and 325 a year ago in April 2018.  Thank you to all who are supporting and serving in the Pantry's ministries!
86th KIVA Microloan
In mid-April, the Missions & Social Concerns Committee made a new $400 loan to Hanadi, a 40-year-old mother of six kids living with her family in a village near Nablus, West Bank, Palestine.  She runs a small store for selling clothing to help her husband with the family expenses.
From $4000 of Best Special Projects money, Winchester Friends has now loaned a total of $30,625 to 86 low-income borrowers (75% of them women) in the regions of FUM missions sites (East Africa, Palestine, Jamaica, Cuba, Belize).  To learn about all our past and current loan partners and see their progress, go to <KIVA.org>.  Click on "Teams" beneath "Community" at the very bottom of the page, then type Winchester Friends into the "Search Teams" box and click "search."  Click on the photo of our meetinghouse, then on the "Loans" tab at the top of the next page to see all our loan partners.
Spring 2019 Social Concerns Focus — What Would Jesus Do?
With so many difficult, potentially controversial social/spiritual issues confronting our society and culture at this moment in history, the Missions & Social Concerns Committee asks Friends in early 2019 to consider reading Charles Sheldon's 1896 devotional novel In His Steps and applying his simple question "What would Jesus do?" to those vexing issues. 
What Would Jesus Do – or Not Do – About Rampant Gun Violence?
April ended with a heartbreaking succession of incidents of gun violence in this region and across the country in which several people died and many others were injured.  In the space of just four days, we learned of the bigotry-driven Passover shooting at a southern California synagogue, then the apparent murder-suicide of three people 25 miles down the road in Muncie and the murder of four people in a home 75 miles in the other direction on the outskirts of Dayton, and then the killing of two students in a classroom at the University of North Carolina at Charlotte.  Those tragedies immediately brought to mind a litany of other recent mass shootings and bombings (Florida and Texas schools, Pittsburg temple, New Zealand mosques, Sri Lanka churches and hotels) and again brought to many lips the questions, "when will it stop?" and "what can be done?"   It also causes many of us to ask "what would Jesus do?"
In response to the attacks on houses of worship, Public Broadcasting System"s Newshour program on April 30 invited a rabbi, an evangelical Protestant official, a leader of an Islamic center, and an Episcopal bishop to discuss their faith communities' efforts both to prepare for and to avert such threats.  After hearing the other three panelists describe active shooter trainings, armed uniformed guards outside places of worship, trained and armed parishioners inside, and electronic surveillance and door-locking technologies, the bishop stated simply, "We worship and serve Jesus Christ of Nazareth, and we cannot imagine Him answering violence with violence."  He went on to agree that in this time of heightened tension, closer attention to security and even uniformed police posted outside places of worship could be a helpful deterrent against people contemplating an attack, but he rejected the idea of churches becoming armed fortresses.
In a February 2018 article for Medium.com, a medical doctor (and gun rights advocate) argues that in solving gun violence, the deeper problem is the violence, not the guns.  He agrees that getting rid of rapid-fire weapons and large magazines would reduce the potential for mass casualty attacks.  But he also points out that our society has failed for a very long time to teach and practice a preference for nonviolent, person-affirming resolution of conflict.  Until that changes, violent people will find ways, with guns or without them, to solve their problems by dominating and hurting others.
In the John 8 story of Jesus' encounter with a woman about to be executed for her adultery, he shows that we could address both the short-term lethal crisis and the deeper, longer-term causes of it.  He nonviolently disarms the stone throwers, and he calls the woman (and her accusers) to a changed way of living.  Long before Jesus showed up in Israel, the prophets Isaiah and Micah proclaimed that when Messiah arrived, the lion and lamb would lie down peacefully together, His followers would convert their weapons into farm equipment, and no one would do harm to others on His holy mountain.  Although the world at large obviously has not yet acknowledged or accepted the arrival of the One about whom that was foretold, the prophets quite clearly describe the direction in which His devoted followers will move. 
When trying to diagnose and treat a complicated, mysterious medical condition, doctors often perform numerous tests to rule out possibilities and confirm what the mystery illness is
not
.  The scourge of gun violence in our time is just such a complex dilemma.  We may not yet have the conclusive prescription of what to do, but I stand with the bishop in pondering the question "
what would Jesus not do?
" and concluding that
he would not use violence while teaching that violence is not his way
.
–Ron Ferguson, for the Missions & Social Concerns Committee
**********************************************************
Winchester Friends Church             765-584-8276
124 E. Washington St.        Winchester, IN 47394
www.winchesterfriendschurch.org
**********************************************************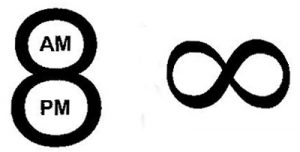 Pray at Eight – Pray Without Ceasing

for people struggling against substance abuse and addiction, and for the people working to help them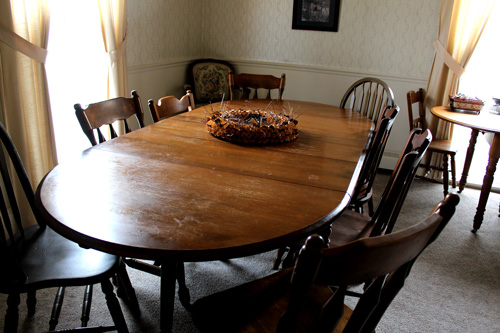 The Lord's Table, Not Ellen's
The very best "face time" is around an old maple table of mine that now sits in the dining room of the parsonage. That table began as a tree in a north woods and stood there far longer than it has been a table.  I first saw it in a furniture store in Minot, North Dakota, in 1967.  I was convinced that it should stand in a dining room on Tangley Rd at Minot AFB where Dale and I lived at the time.  That was the last time it stood in a dining room in my home — it has always shared a spot in the living room with whatever other furniture had to be moved when it was needed as a table.  Its drop-leaf feature allowed me to keep it in several homes through 30 years.  (That same feature requires anyone sitting at this table to fight with its legs.)  When Ron and Pam arrived in Winchester almost 20 years ago with a waterbed and little else, I quickly decided that the maple table had a new home.  As you may have guessed, I have had a 50-year (and 50-pound) relationship with this table.  It has been the bearer of many good meals and the center of many good conversations. But blessings even greater than those come from being face to face with people around this old table.  On Wednesday evenings we gather around that table to pray for members of our Meeting, our community, and for many other concerns. And oh yes, we have Prayer Soup or Intercession Salad.  There always seems to be room for more people around "Ellen's Table." Perhaps you should come and see.