Friendly Reminder    

January 2020
Winchester Friends Church   

124 E. Washington     Winchester, IN  47394

    765-584-8276
In every way possible, Winchester Friends seeks to carry out its calling to make Christ known through meaningful worship, obedient witness, and sacrificial service, welcoming all who are willing into friendship with God and into redemptive community together.
Christmas Thanks!
—to the Welcome Class and helpers for beautifully decorating the sanctuary for the Christmas season, and to the Friends who helped put away the decorations in late December;
—to the Friends and family members who provided 27 beautiful memorial poinsettias in the sanctuary during Advent;
—to Linda Campbell for telling the congregation her personal Advent story of Christ's arrival into her life, and placing a wreath ornament on the parlor tree to symbolize what she said;
—to Brian Lilly, Mary Clark, the cantata choir's singers from Winchester and Rural Friends and other local churches, and all who attended the Christmas Program on December 15 and enjoyed fellowship around Holiday Desserts (facilitated by the Christian Fellowship Committee) afterward;
—to the many Friends and others who donated to and helped conduct the Angel Tree project that provided Christmas gifts for at least 170 area kids in around 60 families during December;
—to all who donated to and helped with the Community Christmas Basket project that provided significant extra food for over 350 area families on December 21;
—to the generous Friends who donated a total of $1009 during December to the Christmas Envelope Offering for Missions, to be matched with $500 of Best Special Projects funds.  Winchester Friends will send at least $500 to Belize Friends Mission, significant gifts to the local Gas Help Fund and the community food pantry, and possibly to other needs to be determined by the Missions & Social Concerns Committee.  Thank you, kind Friends!
Thank You!
—to Dave Longnecker for spending long hours helping technicians to diagnose and repair the sanctuary sound system after it malfunctioned in early December;
—to Al Groth for his help with snow removal at the church in mid-December, and for many hours spent in late December repairing water damage to the plaster walls and ceiling in the meetinghouse northeast entrance
2019 Contribution Summaries
Winchester Friends' treasurer in early January will prepare annual charitable contribution summaries for individuals' 2019 tax return purposes.  They should be handed to you on a Sunday morning or mailed to you by mid-January.  Please contact the church office (584-8276) if you have questions regarding your report, or if you have not received your expected report by January 26.
2020 Offering Envelopes
Winchester Friends offers a preprinted, numbered offering envelope system (1) to enable the bookkeeper to provide year-end charitable contribution reports to Friends for income tax purposes; (2) to provide a measure of privacy in giving; and (3) to maintain an accountability system for those who handle the church's offerings each week.  For the first half of 2020, the treasurer has prepared "repurposed" envelope sets from previous years' leftovers, rather than recycling them unused and buying new ones.  Those January-June 2020 envelopes were distributed in December, and most have been picked up by Friends.  If you expected but did not receive a set, or if you don't currently use envelopes but would like to start, please contact the church office.
2019 Compassion Garden Thanks
During 2019, $400 was donated for produce grown in the Compassion Garden or in Friends' home gardens. Thank you to everyone who contributed generously for many kinds of vegetables and fruits from the table.  Just before Christmas, Heifer International announced that an anonymous donor would double-match year-end donations.  That means our $400 became a $1,200 donation to help families around the world to lift themselves out of hunger and poverty by providing them cows and chickens. This continues a Winchester Friends concern dating back to 1946 when Sunday School classes raised $140 to purchase a heifer here and sent it by ship to Poland to help restock livestock herds decimated during World War II.  Thank you for your help once again to make a difference in the world!
__________________________________________
Please keep the church office updated with your latest address,
phone, email, birthday, and anniversary information.  Thanks!
__________________________________________
Still More Thanks!
At Christmas, Winchester Friends gave small monetary gifts of appreciation to seventeen Friends who regularly apply their skills, time, and energy to staff and nurture the Meeting's administrative, musical, technical, instructional, and other ministries.  Those staffers send their thanks for your kind gifts.  The pastors also thank the many individual Friends who have shared generous gifts with them this Christmas.  None of the church's work is possible without the stewardship and commitment of the whole faith community.  Thank you to all for your gifts, and for your vital participation in the life of the Meeting all year long!
USFW  –  "Sewing Dignity"
The Winchester Friends USFW held a sewing day on December 11 to help Western Yearly Meeting USFW's project of making 250 kits for the Kenya Pad Project. The government there subsidizes the cost of sanitary pads to make them more affordable, but there are many girls and women who still cannot afford to buy them. That often means they miss school, work, church, or other public gatherings when they have their periods. There are times when women must choose between buying pads or buying food for their children. They fashion makeshift  pads from rags or household items, and some resort to using corn husks or leaves.
This project began with a goal of providing five sets of pads to each of the 40 girls in the Girl Child Education Program in Turkana and Samburu (two of the poorest counties in Kenya) where there is a great need. Ten women participated in the USFW  December workday by sewing, cutting, ironing, and packing kits that contained a set of five pads, a pair of underwear, a washcloth, and Ziplock bags for washing and storage.  Winchester USFW is well on its way to their goal of completing 40 kits.  Thank you to the women who spent their day working to provide a bit of dignity for other women.
The USFW's January meeting will be an afternoon tea at the Randolph County Historical Museum (416 S. Meridian St. in Winchester) on Saturday January 11 from 2:00 PM to 3:00 PM.  The women of Jericho and Rural Friends' USFWs have been invited to join us for informal fellowship and to learn about local Quaker suffragette Amanda Way and the ratification by Indiana's General Assembly of the 19th Amendment to the US Constitution 100 years ago on January 16, 1920.

Friends are welcome during January and February to bring secondhand clothing, household and kitchen items, furniture, electronics, and other sale goods to the meetinghouse annex attic in preparation for the USFW's Spring rummage sale, to be held in March.  Proceeds from the rummage sale help to fund the USFW's many outreach activities throughout the year.  For assistance in transporting your donations to the meetinghouse, please call the church office.
Our Sympathy
—to Janet Ross in the death of her husband Don on December 1;
—to Letha and Austin Cox on the death of their grandson Ben Ely on December 9
2020 Church Budget
The Monthly Meeting for Business held on December 1 approved a 2020 budget totaling $147,946, about $1000 (.7%) higher than 2019's budget.  The new budget includes small cost-of-living increases for the Meeting's paid staff, and it anticipates using $17,650 of existing reserves for college scholarships, trustees' contingencies, conferences/ trainings, and Christian education activities.  The remaining $130,296 is to be raised through Friends' contributions of tithes and offerings through the year (average $10,858 per month or $2508 per week).  The 2020 budget includes approximately $90 per adult member to fund Friends United Meeting missions activities.  Thanks to everyone for your faithful stewardship and investment for releasing ministry into the world through Winchester Friends.
Congratulations
to IUPUI senior Kendra Holliger, who learned in early December of her acceptance as a first-year dental student at Indiana University's School of Dentistry beginning in July!
Drop-Off Day for Unwanted Electronics
Now that the holiday clean up is in progress, keep in mind that Pollution Solution (on SR 32, just east of  County Road 200 E) will host its Post-Holiday Electronics Drop-Off on Saturday January 18 from 8 AM to 12 Noon.  Snow date will be the week after.  They can take anything with a cord, with no charge for anything except TVs 25 inches or larger ($10.00).  They cannot take household hazardous waste until they open for the spring on March 14.  Any questions?  Call 584-9816.
Spring 2020 Social Concerns Focus
The Missions & Social Concerns Committee in December chose "practical spiritual responses to climate change" as their focus during the first half of 2020.  Please watch in coming months for opportunities to learn and participate!
Churches & Community Food Pantry
In three weeks of December 2019, the Pantry provided food to 256 Randolph County households.  (The Pantry closed from December 20 through January 1.)  For comparison, 349 households were served in November 2019, and 302 a year ago in December 2018.  The Pantry board thanks the many Friends who tangibly expressed God's love in our community by generously giving time, effort, food, and money to help staff and resource the Pantry in 2019.
Service Cancellation Policy for Inclement Weather
The following policy was adopted in 2007-2008 to help Friends understand how decisions regarding possible service cancellations
will be made during Indiana's unpredictable winter months:
1)  Anytime a Red / Level Three (emergency travel only) Travel Emergency is in effect in Winchester, services automatically will be canceled.  Friends are urged to abide by the declaration governing their place of residence and their usual route to Winchester Friends.
2)  In cases of lower-level (Orange or Yellow / Levels Two or One) travel restrictions, the decision to cancel services will be made (usually via phone consultation) by the Monthly Meeting Clerk, the M&O clerk, the pastors, and other clerks or Meeting officers available to be polled.  They will try to make their decision early enough to prevent unnecessary travel, but late enough to allow an accurate assessment of what actual weather and road conditions will be at the time of the planned services.
3)  Anytime the decision has been made to cancel services, Friends will be notified by a combination of e-mail, phone calls, and announcement on local radio stations (Winchester's WZZY 98.3 and Indiana Public Radio).  If you have not been notified of service changes by e-mail, phone, or radio announcement, you may assume that services will be held as usual.  If in doubt, Friends are welcome to phone the church or parsonage for the latest information.
4)  If services are held during inclement weather, every reasonable effort will be made to have the meetinghouse entryways, sidewalks, and parking lot in usable shape.  The Meeting's leaders assume that Friends will attend if possible, but that individuals will exercise good judgment as to whether they can safely travel to the church, and that they will exercise due caution while walking to and from the building.  Those who are not confident of their footing and balance are encouraged to remain safe at home, praying with and for those who are gathering for worship.
**********************************************************
Winchester Friends Church             765-584-8276
124 E. Washington St.        Winchester, IN 47394
www.winchesterfriendschurch.org
**********************************************************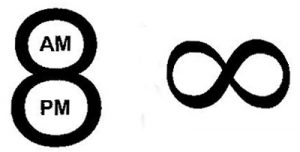 Pray at Eight – Pray Without Ceasing

for people struggling against substance abuse and addiction, and for the people working to help them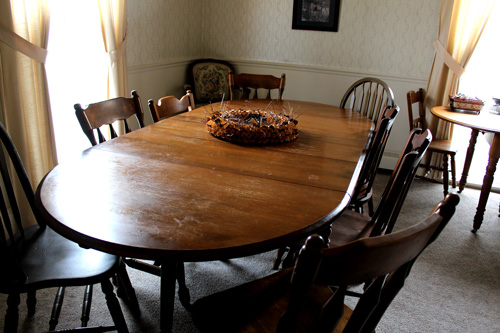 The Lord's Table, Not Ellen's
The very best "face time" is around an old maple table of mine that now sits in the dining room of the parsonage. That table began as a tree in a north woods and stood there far longer than it has been a table.  I first saw it in a furniture store in Minot, North Dakota, in 1967.  I was convinced that it should stand in a dining room on Tangley Rd at Minot AFB where Dale and I lived at the time.  That was the last time it stood in a dining room in my home — it has always shared a spot in the living room with whatever other furniture had to be moved when it was needed as a table.  Its drop-leaf feature allowed me to keep it in several homes through 30 years.  (That same feature requires anyone sitting at this table to fight with its legs.)  When Ron and Pam arrived in Winchester almost 20 years ago with a waterbed and little else, I quickly decided that the maple table had a new home.  As you may have guessed, I have had a 50-year (and 50-pound) relationship with this table.  It has been the bearer of many good meals and the center of many good conversations. But blessings even greater than those come from being face to face with people around this old table.  On Wednesday evenings we gather around that table to pray for members of our Meeting, our community, and for many other concerns. And oh yes, we have Prayer Soup or Intercession Salad.  There always seems to be room for more people around "Ellen's Table." Perhaps you should come and see.