Friendly Reminder

Winchester Friends Church

124 E. Washington

765-584-8276
In every way possible, Winchester Friends seeks to carry out its calling to make Christ known through meaningful worship, obedient witness, and sacrificial service, welcoming all who are willing into friendship with God and into redemptive community together.
Have You Been Skipping School?
On March 3, the Welcome/William Penn Class taught by Cleo McFarland, the Fabulous Friends taught by Pam Ferguson, and the Parsonage Class taught by Ron Ferguson began a new Illuminate (Barclay Press) quarter of lessons titled "Acts — The Work of the Spirit." This month, those lessons are:
March 3 The Holy Spirit's Power Acts 1:1-8, 2:1-6
March 10 Peter's Sermon Acts 2:14-24, 32-41
March 17 The Life of the Church Acts 2:42-47; 4:32-37
March 24 An Amazing Boldness Acts 4:1-4, 7-20
March 31 Preaching Everywhere Acts 8:1-8; 11:19-26
If you're not currently studying the Bible with others, please choose a class and come join us at 10:30 AM each Sunday!
USFW Meeting March 13
The USFW will meet on Wednesday March 13 at 9:00 AM for business and to prepare for the spring rummage sale. A light lunch will be served around Noon. All ladies are invited, and all help will be appreciated!
USFW Spring Rummage Sale March 15
The USFW's annual rummage sale will be held in the meetinghouse basement on Friday March 15 from 8 AM to 2 PM. This event raises funds for USFW's missions and outreach efforts, recycles still-useful goods, and provides welcome bargains to area residents. Volunteers are welcome to help conduct the sale — contact the church office for details. Kitchen and household items, furniture, electronics, clothing, and other donated sale items may be brought to the meetinghouse until March 13. If you need help transporting donated items to the meetinghouse, please phone the church office.
Advance Planning for Easter
The Missions & Social Concerns Committee in February approved receiving a special Easter Offering for Outreach (global and local) in April. Since we are using "recycled" offering envelope sets this spring, many Friends will not have a special Easter envelope. We are working on a way to provide those to everyone later in March. Please watch for those envelopes, and prayerfully plan to make a special Easter missions contribution in April.
Come Celebrate a Job Well Done!
The church family's Spring Fling luncheon to celebrate the renovation of the meetinghouse dining hall and kitchen will be held on Sunday March 31 at 11:30 AM, right after Sunday School. This event was originally planned for March 17, but delays in fabrication of new countertops necessitated delaying the celebration by two weeks.
The project began almost one year ago with the removal of the sagging plasterboard ceiling in the dining hall. Since then, a new suspended acoustic tile ceiling and recessed LED lighting were installed; new sheetrock walls have replaced aged paneling; a vinyl tile floor was laid throughout both rooms; new cabinets and serving counters were installed and a new cupboard built; attractive backsplash tiling was installed behind the sinks; new hidden table storage carts were built; many helpful new electrical outlets were installed in both rooms; all the walls and trim have been painstakingly painted; and a new dishwasher was installed in the kitchen. In early March, a number of workers have been sorting, cleaning, and returning to cabinets and storerooms all the dishes, cooking utensils, and numerous other things that belong in the kitchen.
It would be impossible to name here all the Friends who have invested time, skill, and resources over the past year to bring this project to completion. An attempt at that will be made at the March 31 celebration luncheon, but for now — you know who you are — please accept the gratitude of the whole Meeting for all the work that has been done to accomplish this needed improvement.
For the March 31 Spring Fling luncheon (celebrating this project, December's postponed Holiday Dinner, the new year, Valentine's Day, you name it), the Welcome Class will provide the meat and bread courses, drinks, and table service. All attenders are encouraged to bring vegetable, casserole, and dessert dishes to share potluck-style. In addition, all Friends are encouraged to bring a friend who currently is not active in a faith fellowship to worship, study, and feast and celebrate with us that day. The best way to use the beautiful new kitchen and dining hall is to share it with as many others as possible to build up the community of Christ.
__________________________________________________
Please keep the church office updated with your current address,
phone, email, and birthday and anniversary information.
__________________________________________________
Personnel Committee
The Personnel Committee in March will begin its work of matching Friends' spiritual gifts and interests with ministry opportunities available through the committees and other work of this faith community for the 2019-2020 church year that begins in July. Please begin now to pray for the Personnel Committee's work, and for the Lord's leading regarding your place of ministry in our fellowship — and then be faithful when you receive their call in the weeks ahead. "Work willingly at whatever you do, for you are working for the Lord rather than for people." (Colossians 3:23)
Winchester Friends Membership
Some of the leadership and committee positions the Personnel Committee seeks to fill this spring require Adult Membership in the Meeting. The Friends Faith & Practice membership covenant states that "we receive as members those who affirm faith in God and in Jesus Christ as Savior, who accept the teachings of Christian truth as held by Friends, and who express commitment to support and participate in the services and ministries of the church." If you attend Winchester Friends but have not sought official Meeting membership, the Ministry & Oversight encourages you prayerfully to consider it. A packet of application materials is available upon request.
2019 Earth Hour on March 30
All Friends are encouraged to participate in the 13th annual
Earth Hour
by turning off all lights and consuming as little electricity as possible
between 8:30 PM and 9:30 PM on Saturday evening March 30
. The event symbolizes the fact that by working together, the world's people can make a positive impact in the fight against human-caused climate change. Sponsored by World Wildlife Fund,
Earth Hour
was first observed in 2007 when 2.2 million people darkened Sydney, Australia, for an hour. It has grown each year since then. By 2018, millions of people in over 7000 cities and towns in 180 countries and territories, plus the International Space Station, were switching off their lights for
Earth Hour
, sending a powerful message for collaborative action on climate change. WWF's goal is to build a truly global community committed to creating a more sustainable planet. For more information, go to <
www.worldwildlife.org/pages/earth-hour
>.
Churches & Community Food Pantry
The Pantry served 301 households during February. For comparison, 298 families were served the previous month in January 2019, and 272 households were assisted a year ago in February 2018. Thank you to all who are donating, volunteering, and helping in other ways with this ministry!
Trustees Spring Workday April 6
The Trustees invite all able-bodied Friends to come help with the annual spring cleanup around the meetinghouse (both indoor and outdoor work) on Saturday morning April 6. There will be jobs everyone can do — come lend a hand! Please bring yard tools if possible. All workers are welcome to start the morning with a free breakfast at 8 AM in the church basement. The bad weather backup date for outdoor work will be April 13.
Bereavement Support Group
The Healing Hearts grief support group (Al Groth, facilitator) will next meet at the Shalom Center for a potluck meal and conversation on Thursday March 21 at 6:30 PM. All interested persons are invited to this encouraging fellowship.
New KIVA Microloan
On International Women's Day March 8, Winchester Friends made its 85th KIVA microloan ($400) to Dunia Elizabeth, a 36-year-old single mother of three children. She lives in the city of San Pedro Sula, Honduras, just south of the border with Belize (site of Belize Friends Mission and School). For the past three years, she has sold corn tortillas, sweets, juices, and soft drinks at a food stall located outside her home. She will use this loan for the purchase of inputs and stock to sell, and also to buy clothing to sell as a new business. Dunia's goal is to increase her sales and income to better support her family, and eventually to open a storefront premises and restaurant.
From $4000 of Best Special Projects money, Winchester Friends has now loaned a total of $30,225 to 85 low-income borrowers (75% of them women) in the regions of FUM missions sites (East Africa, Palestine, Jamaica, Cuba, Belize). To learn about all our past and current loan partners and see their progress, go to <KIVA.org>. Click on "Teams" beneath "Community" at the very bottom of the page, then type Winchester Friends into the "Search Teams" box and click "search." Click on the photo of our meetinghouse, then on the "Loans" tab at the top of the next page to see all our loan partners.
Easter Memorial Flowers
After several years of hearing some Friends tell about their allergy to lily pollen, the Ministry & Oversight has approved placing other potted spring flowers (tulips, daffodils, etc.) this year as memorials to decorate the sanctuary for Palm Sunday and Easter. Price information is not yet available, but we will do our best to keep it at a level comparable to last year's cost for lilies ($7 per plant). Watch for the sign-up sheet soon in the sanctuary parlor.
Quaker Haven 2019 Camp Planner
registration after May 31 adds $50 to earlybird fee
Jr. High Camp grades 7,8 June 9-14
Beginners Camp grades K-2 June 14-16
requires a parent or guardian with each camper
Senior High 1 grades 9-13 June 16-21
Adventure Camp grades 5,6 June 23-28
Little Friends Camp grades 2-4 July 7-10
Senior High 2 grades 9-13 July 14-19
Spring 2019 Social Concerns Focus — What Would Jesus Do?
With so many difficult, potentially controversial social/spiritual issues confronting our society and culture at this moment in history, the Missions & Social Concerns Committee asks Friends in early 2019 to consider reading Charles Sheldon's 1896 devotional novel In His Steps and applying his simple question "What would Jesus do?" to those vexing issues. Our thanks to Deborah Lilly for the following essay arising from her reflection on this concern.
What Would Jesus Do About Overwhelming Human Need?
In an interview with Diane Rehm on National Public Radio, Catholic scholar John Dominic Crossan discussed the relevance of Jesus' miracles for us today. He chose as his example the feeding of the five thousand with what appeared to be a very small quantity of bread and fish (Matthew 14:13-21). Jesus took the food, gave thanks for it, and told his disciples to pass it around. They all ate and were satisfied, and the disciples picked up twelve basketfuls of broken pieces that were left over. The number of those who ate was about five thousand men, besides women and children. Matthew 14:20-21 (NIV)
Crossan explained that, for him, this biblical story is not so much about Jesus' ability to perform miracles but a demonstration by Jesus as to how followers of Christ are to treat other people.
Nearly all of the miracles of Jesus have the same plot: Someone needs something, and Jesus has the ability to meet that need: He restores sight to the blind man (John 9:1-7). He restores mobility to a paralytic (John 5:1-15). He restores life to Jairus' daughter (Matthew 9:23-26). He restores peace of mind to the disciples by calming the sea (Luke 8:22-25). Jesus offers these miraculous feats not only because he has the ability to do so, but also because he has immeasurable love for every person in each of these stories.
Until I heard that interview with John Dominic Crossan, I never looked at the story of the feeding of the 5,000 as a demonstration of Christ's love. I only saw a miraculous solution to a physical problem. When I look at the story through that lens, it is simply a nice story of Jesus providing dinner to an enormous crowd. Even if I prepared everything that is in my kitchen cupboards and refrigerator, I couldn't come close to having enough food to feed 5,000 people. Therefore, the feeding of the 5,000 is a story that has no implications for how I should live my life.
However, if I look at this story from Matthew as an example of how I am to treat other people, it is not a calling for me to literally feed 5,000 people. It is a story about sharing what I have and treating people with kindness, concern, and love.
When I think of the social concerns we have in our society today, I am overwhelmed. Each one in itself seems to be a problem beyond what I am able to solve. Emotionally and materially, I only have a few pieces of bread and fish for a very large and very hungry crowd. In this frame of mind, I am easily led down a path that asks questions such as "why didn't these people bring their own lunch, what are they doing with their lives that they can't afford lunch, and why is their poor planning my problem?"
When I look at these social concerns through the loving eyes of Christ within a community of others working to be Christ-minded connecting with other communities, changes can take place. When people work together to replace skepticism with love, a few pieces of bread and fish can feed 5,000.
*********************************************************
Winchester Friends Church 765-584-8276
124 E. Washington St. Winchester, IN 47394
www.winchesterfriendschurch.org
**********************************************************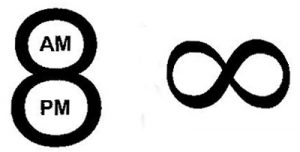 Pray at Eight – Pray Without Ceasing

for people struggling against substance abuse and addiction, and for the people working to help them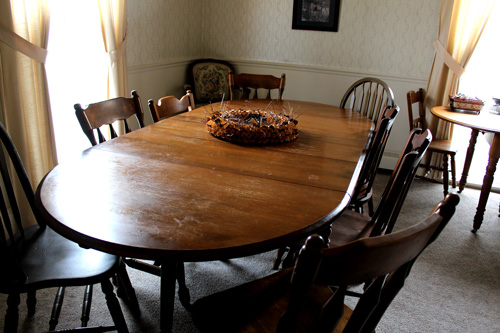 The Lord's Table, Not Ellen's
The very best "face time" is around an old maple table of mine that now sits in the dining room of the parsonage. That table began as a tree in a north woods and stood there far longer than it has been a table.  I first saw it in a furniture store in Minot, North Dakota, in 1967.  I was convinced that it should stand in a dining room on Tangley Rd at Minot AFB where Dale and I lived at the time.  That was the last time it stood in a dining room in my home — it has always shared a spot in the living room with whatever other furniture had to be moved when it was needed as a table.  Its drop-leaf feature allowed me to keep it in several homes through 30 years.  (That same feature requires anyone sitting at this table to fight with its legs.)  When Ron and Pam arrived in Winchester almost 20 years ago with a waterbed and little else, I quickly decided that the maple table had a new home.  As you may have guessed, I have had a 50-year (and 50-pound) relationship with this table.  It has been the bearer of many good meals and the center of many good conversations. But blessings even greater than those come from being face to face with people around this old table.  On Wednesday evenings we gather around that table to pray for members of our Meeting, our community, and for many other concerns. And oh yes, we have Prayer Soup or Intercession Salad.  There always seems to be room for more people around "Ellen's Table." Perhaps you should come and see.