Friendly Reminder 

August 2018
Winchester Friends Church   

124 E. Washington     Winchester, IN  47394

    765-584-8276
In every way possible, Winchester Friends seeks to carry out its calling to make Christ known through meaningful worship, obedient witness, and sacrificial service, welcoming all who are willing into friendship with God and into redemptive community together.
Back-to-School Picnic August 6
The Christian Education Committee and your Sunday School class invite all Friends and your guests to a picnic supper and time of fellowship at the Goodrich Park shelter on Monday August 6 starting at 6:30 PM.  Christian Ed. members will provide hot dogs, buns, chips, and drinks.  Other Friends are welcome to bring favorite "finger foods" to share if you're able, and some yard or table games if you like.  Invite a friend or two — and then bring them in August to join us for worship and Sunday School, too!
17th Annual Compassion Garden
Compassion Garden tomatoes have finally begun to ripen! They, along with cucumbers, peppers, squash, and other vegetables are now available in the annex hallway on Sunday mornings.  Friends' donations for the produce will help the Junior Church kids send support to Heifer International's hunger- and poverty-relief ministries next Christmas.  Friends also are welcome to add extra produce to the Compassion table from your home garden, if you'd like to help raise funds to fight hunger.  Unsold vegetables are donated to the Churches & Community Food Pantry.  Thank you for supporting this project!
Rummage for Cuba Missions
The Missions & Social Concerns Committee invites Friends during August to bring donations of unwanted furniture, kitchen items, electronics, clothing, and other household items to the church attic for the Fall Rummage Sale for Missions on Saturday September 15.  Proceeds from this year's sale will benefit Friends United Meeting's ministries in Cuba, our fall missions focus (see the newsletter back panel).  If you would like to help the Committee conduct this fall's sale, or if you need assistance in transporting your donated rummage to the meetinghouse attic, please let the church office know.
2019 Church Budget
The church's committees are asked in August to begin discussing their 2019 budget requests.  Committees need to have their proposed budgets returned to the church office in early October so the Stewardship & Finance Committee has time to prepare the overall budget for first presentation at the November Monthly Meeting. 
______________________________________________
Please keep the church office updated on your birthday and anniversary
information, and any address/phone/email changes.
_______________________________________________
Congratulations!
to Sheryl Fidler on the July 25 birth of her new granddaughter Caitlynn Anne to Marisa and Nick Mailloux of Decatur, IN
AED Refresher Class August 29
In 2016, Winchester Friends purchased an Automated Electronic Defibrillator that is kept in a special cabinet beside the elevator door on the ground floor of the meetinghouse annex.  The AED is an audibly-guided machine used to restart the heart of someone who has suffered cardiac arrest.  Familiarization sessions have been held the past two autumns for Friends to learn about the AED and how to use it in a medical emergency.  The Missions & Social Concerns Committee has now planned another AED training for Friends on Wednesday evening August 29 at 7:00 PM at the church.  All Friends are encouraged to attend.
Quaker Haven Family Camp
Quaker Haven's 2018 Family Camp will be held from Friday August 31 to Monday September 3.  The weekend includes fun activities, free time, fellowship with other Friends, and evening gatherings for worship and spiritual input from speaker Bill Quigley.  Cost of Family Camp depends on the type of accommodation and number of meals desired.  Registration is needed by August 14.  For specific information and registration assistance, phone 574-834-4193.
United Society of Friends Women
Indiana USFW's 2018 Fall Retreat will be held at Quaker Haven Camp on September 10-11, with guest speaker Kelly Haemmerle addressing the theme "Great is Thy Faithfulness."  The cost is $75 per person; registration as soon as possible will be appreciated. Please see Ellen Craig or Pam Ferguson for details.
USFW Meetings Resume in September   All Friends women are invited to this fall's meetings, beginning on Wednesday September 12 at 1:30 PM at the church.
Our Sympathy
—to Pat and John Engle mourning the July 14 death of their brother-in-law Jim McClain in Columbus, OH
—to Terry and Sharon Reynard mourning the death of Terry's stepfather Lee Hendrickson on July 27 at age 102
Dining Hall & Kitchen Remodel Update
After the July Monthly Meeting for Business gave approval for the Trustees to proceed with renovation of the meetinghouse dining hall, work has slowly but steadily been underway.  Before his surgeries, Shane Hall enclosed pipes and conduits at the south end of the room. Dave Longnecker has installed new wiring and outlets, and Al Groth has prepared the north wall to be sheetrocked.  Tony Kritsch and Al enclosed pipes running across the north end of the room.  Soon it should be ready for new walls to go up in advance of installation of the suspended acoustic tile ceiling.  The Trustees intend to complete the walls and ceiling work before the USFW apple dumpling project begins at the end of September.  A new counter, a folding table storage area, and a beverage station are also planned across the north wall of the dining hall.  At the proper time and sequence, they then plan to have a new covering applied to the concrete floor.  The Trustees are doing as much of the work themselves as possible and will appreciate any assistance Friends can provide.  If you have experience or skills that could help, please contact Al Groth or Shane Hall regarding the sequence of tasks to be done and plans for upcoming work sessions.  Later this year, new cupboards, countertops, exhaust fans, and backsplash tiling will be installed in the kitchen.  Special thanks to Shane, Al, Dave, Tony, and others who already have invested many hours in the early preparatory stages of this big project!
Join the Choirs this Fall
(1) Rehearsals for the weekly Worship Choir begin on Wednesday September 5 (and each Wednesday evening thereafter) at 7:00 PM at the meetinghouse.  New singers (junior high and older) are always welcome, whether you are a beginner or an experienced musician.
(2)  Anyone who enjoys singing but isn't able to join the weekly Worship Choir is welcome to sing with the occasional Hymnbook Choir this fall in its sixth year.  Rehearsals are at 8:45 AM right before worship on the Sundays the Hymnbook Choir sings.  Music selections will be taken from our hymnal.  Dates for the Hymnbook Choir to sing during the 2018-2019  church year will be announced soon.
  Contact director Brian Lilly (765-969-0689) for details regarding these opportunities.
20th Friendship Sunday – September 23
 The Ministry & Oversight invites everyone to Friendship Sunday and the Fall Picnic on Sunday, September 23, at the 4-H fairgrounds south of Winchester.  The M&O's goal for Friendship Sunday each year is for every Friend to bring at least one friend (preferably one who currently has no church family) to come enjoy a relaxed morning of worship and fellowship together.  Dress is casual, the lunch always good (hosted this year by the Fabulous Friends and Parsonage classes), and the fellowship rich.  Please start inviting your friends, and plan to join us on September 23!
Churches & Community Food Pantry
In July 2018, the pantry served 394 households.  For comparison, 340 households were served during the previous month June 2018, and 369 were served a year ago in July 2017.  Thank you to the many Friends who have so faithfully donated food, money, time, and effort to support and staff the pantry as a tangible expression of Christ's love!
78th KIVA Microloan
In late July, the Missions & Social Concerns Committee made a $400 microloan to a 24 year-old Palestinian refugee named Muhammad.  He lives with his family in a refugee camp near Ramallah, West Bank, where he has opened a grocery store to provide basic goods for other residents and to earn income to support his family. He requested a KIVA loan to expand his store's grocery stocks and increase his sales in order to earn more income.   KIVA stresses that such loans are important because they benefit refugees who have been marginalized and disadvantaged in the current West Bank situation.
Starting with $3000 of Best Special Projects money, the Committee now has made 78 microloans totaling $27,625 in the general regions of Friends United Meeting missions (Jamaica, Cuba, Belize, East Africa, Palestine). 
To learn about all our past and current loan partners and see their progress, go to <KIVA.org>.  Click on "Teams" beneath "Community" at the bottom of the page, then type Winchester Friends into the "Search Teams" box and click "search."  Click on the photo of our meetinghouse, then on the "Loans" tab at the top of the next page to see all our loan partners.
Quaker Religious Education Collaborative
The Christian Education Committee in July approved sending Deborah Lilly and Pam Ferguson to Powell House in Old Chatham, New York, from August 17-19 to participate in the 5th annual meeting of the Quaker Religious Education Collaborative.  QREC is "a grassroots network of Friends holding a sense of stewardship for lifelong Quaker faith formation through religious education."  People from all the American branches of the Society of Friends participate in QREC.  This year's conference will focus on the local Meeting's use of education ministries for spiritual outreach and strengthened parenting, among other topics.  Both Deborah and Pam have written curriculum for Barclay Press and other Quaker publishers.  The Christian Education Committee approved sending them in part to benefit other Friends with their experience and knowledge, in part for them to bring back ideas from other Friends for sustaining Christian education at a time when it has been laid aside by many people and churches, and in part to network and build relationships with "weighty Friends" in the field of religious education across the Quaker spectrum.  Deborah and Pam plan to visit the National Women's Hall of Fame Museum at Seneca Falls, NY, while en route to the conference.  Please pray for their safe travel, spiritual enrichment, and effective ministry to others on this trip.
Fall 2018 Missions Focus  —  Cuba Yearly Meeting
During the latter half of each year, the Missions & Social Concerns Committee asks Friends to focus on one Friends United Meeting international missions location.  For July-December 2018, that focus will be upon Quaker ministry since 1900 on the Caribbean island of Cuba.
Cuba Yearly Meeting is headquartered at Holguin in eastern Cuba.  It is quite evangelical in its message and ministries.  There are at least fourteen churches (Holguin, Vista Alegre, Banes, Velasco, Bocas, Puerto Padre, Gibara, Havana, Retrete, Delicias, Floro Perez, Pueblo Nuevo, Calabazas, Asiento de Calderon), some of which attract 100 or more worshipers on Sundays.  All except the Havana Meeting are located in Holguin or Las Tunas Provinces in eastern Cuba.  Some are rural, and others are in busy urban centers. 
A few Meetings are served by a resident pastor, while others have seminary students (primarily being trained at the Good Shepherd Lutheran seminary) giving leadership to the churches.  All employ a programmed style of worship.  Most have very active men's, women's, and young Friends' groups that meet through the week, in addition to meetings for Christian education on Sunday morning and worship on Sunday evening.  There are around 1200 Friends now taking part in the ministries of Cuba Yearly Meeting churches, including worship, Bible studies, prayer, and fellowship in homes.
A Cuba Yearly Meeting goal continues to be training up leaders for these already-established groups, plus additional leaders for opening new churches and staffing other ministry opportunities as well.  That has been addressed by supporting Friends students at the Good Shepherd seminary, more recently through partnership with Earlham School of Religion to send visiting instructors to hold short term intensive courses, and by training through experience in local Meetings.  Friends United Meeting also partners with the Cuban Quaker Peace Institute, a training center at Holguin for pastors and other leaders, teaching Quaker theology and history, Bible, and peacemaking.  QPI courses also have been held in Havana and Puerto Padre.
FUM will send a Living Letters visiting team to Cuba
this fall from November 10-19 to help Cuba Yearly Meeting celebrate the 118th anniversary of the arrival of Friends missionaries to Cuba.  The group will participate in Yearly Meeting festivities in Holguin and visit several of the outlying Monthly Meetings and mission points. 
(sources: 
www.friendsunitedmeeting.org
; FUM summer missions project mailing)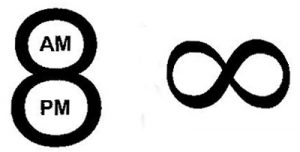 Pray at Eight – Pray Without Ceasing

for people struggling against substance abuse and addiction, and for the people working to help them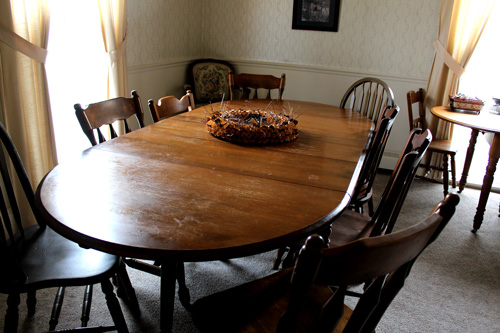 The Lord's Table, Not Ellen's
The very best "face time" is around an old maple table of mine that now sits in the dining room of the parsonage. That table began as a tree in a north woods and stood there far longer than it has been a table.  I first saw it in a furniture store in Minot, North Dakota, in 1967.  I was convinced that it should stand in a dining room on Tangley Rd at Minot AFB where Dale and I lived at the time.  That was the last time it stood in a dining room in my home — it has always shared a spot in the living room with whatever other furniture had to be moved when it was needed as a table.  Its drop-leaf feature allowed me to keep it in several homes through 30 years.  (That same feature requires anyone sitting at this table to fight with its legs.)  When Ron and Pam arrived in Winchester almost 20 years ago with a waterbed and little else, I quickly decided that the maple table had a new home.  As you may have guessed, I have had a 50-year (and 50-pound) relationship with this table.  It has been the bearer of many good meals and the center of many good conversations. But blessings even greater than those come from being face to face with people around this old table.  On Wednesday evenings we gather around that table to pray for members of our Meeting, our community, and for many other concerns. And oh yes, we have Prayer Soup or Intercession Salad.  There always seems to be room for more people around "Ellen's Table." Perhaps you should come and see.