Winchester Friends Church   

124 E. Washington     Winchester, IN  47394

    765-584-8276
In every way possible, Winchester Friends seeks to carry out its calling to make Christ known through meaningful worship, obedient witness, and sacrificial service, welcoming all who are willing into friendship with God and into redemptive community together.
Easter Envelope Offering for Missions
The Missions & Social Concerns Committee encourages Friends to make an extra gift for Christian outreach ministries in early April.  A significant portion of these gifts will go to help the Community Food Pantry replace a malfunctioning refrigerator and replenish food stocks.  Other possible recipients also are under consideration.  A Best Special Projects grant will match the first $500 received in this Easter missions offering.  You may use the special Easter offering envelope in your boxed set, or clearly designate your gift "Easter Missions," then place it in a Sunday offering or give it to the church office by April 15.  Thank you for sharing Christ's love at Easter time!
April Monthly Business Meeting Delayed
The April Monthly Meeting for Business has been postponed from

April 1 to April 8

in order to free up time for family gatherings on Easter Sunday.   All Friends are encouraged to attend Monthly Meeting at

11:20 AM

on

April 8

, then stay for an informal potluck lunch afterwards.
United Society of Friends Women
The USFW thanks everyone who donated, purchased, helped sort and sell items, and helped clean up after the annual Spring Rummage Sale on March 9.  Around $750 was raised that day for USFW outreach projects.  In addition, the unsold rummage was donated to the County Extension for their sale several days later, and that sale raised $650 for the Community Food Pantry and a similar amount for the county's Cancer Society!
The April USFW meeting will be held on

Wednesday April 11 at 1:30 PM

at the church.
The Indiana USFW Spring Conference will take place at Jericho Friends southeast of Winchester on

Saturday April 28

, starting at

9:30 AM.

 
The annual USFW Mother's Day Celebration will be a dinner catered by Bouser's Barn

on Tuesday

evening

May 8 at 6:00 PM.

  Special music will be presented by Winchester's high school girls' ensemble.  All women of the church are invited and encouraged to bring their mother (or a photo of her to be displayed), their daughters, or a friend.  Please make meal reservations through the church office by

May 6

.
Trustees' Spring Workday

April 14


All Friends are invited to come help clean up and fix up around the meetinghouse and grounds on Saturday April 14.  (This is

one week later

than originally planned, due to a 7-day weather forecast predicting sub-freezing temperatures on

April 7

.)  A free breakfast will be served at

8:00 AM

in the dining hall downstairs to start the workday.  There then will be shrubs to trim, weeds to pull, small repairs and maintenance to be done in and around the building, and other tasks as well to spruce things up for springtime after the long winter months.  If it is raining, outdoor work may need to be postponed, but there still will be indoor work to be done, so please come regardless.  Friends are requested to bring yard tools if possible.
Belize Work Trip Report

April 15


During the

10:30 AM

Sunday School hour on

April 15

,  Al Groth and Shane Hall will show photos and tell about their

January 23-30

work trip to Belize Friends Mission.  They went to help with the ongoing project of renovating the three-story building that has housed Belize Friends School since April 2017.  Shane and Al worked much of the week constructing stalls and plumbing showers, a toilet, and a sink into the third-floor dormitory-style bunk room used by visiting work teams.  They also visited with school staff members and students, fellowshipped with Belize City Friends Meeting on Sunday, and visited Mayan ruins outside the city on an afternoon off.  Please plan to attend on

April 15 at 10:30 AM

to hear their stories, see their pictures, and learn more about the ministries and Friends we support in Belize City.
Planting Trees for Earth Day,

April 22


The Missions & Social Concerns Committee will again this year send money to purchase olive tree seedlings for Palestinian farmers whose groves have been seized and bulldozed as part of Israeli settlement expansion.  The new trees will help the farmers recover their livelihood, will convey a message of peace to a troubled region, and hopefully will sequester carbon from the atmosphere for the next 500 or more years.
Courtesy of the local Soil & Water Conservation District office, the Committee also has obtained twenty white pine seedlings for Friends who are willing to plant them.  Please let the church office know if you have room for a tree or two and would like to help with this project.
Personnel Committee at Work
The nonministering Christian is a contradiction in terms.
–D. Elton Trueblood
Personnel Committee members currently are contacting all Friends regarding opportunities for service on 2018-2019 church committees, in Meeting officer positions, and in other capacities during the upcoming church year.  Please help the Committee by prayerfully considering how you might be called to participate in new ways in the church's important ministries.  Thank you to everyone who is faithfully serving the Lord through Winchester Friends!
Winchester Friends Meeting Membership
As per Friends' Faith & Practice (the manual of spiritual and organizational guidelines for our church), service on some of the committees and in some of the leadership positions being addressed by the Personnel Committee (Monthly Meeting Clerks, Ministry & Oversight, Trustees, Personnel Committee) requires formal church membership.  Faith & Practice states that "Friends receive into Adult Membership those who affirm their faith in God and in Jesus Christ as their personal Savior; who accept the teachings of Christian truth as held by Friends; and who desire to participate in the worship and service opportunities of our church, pray for its leaders, and support its ministries."  The Ministry & Oversight encourages people who have worshiped with Winchester Friends consistently for some time, but have not requested formal membership, to consider doing so.  M&O also encourages all Friends periodically to review that simple covenant of membership as a reminder of our shared commitment to serve the Lord together.
Community Food Pantry Update
The Churches & Community Food Pantry served 302 households in March 2018 (compared with 272 households in February 2018, and 332 served a year ago in March 2017).  Thank you to all who continue supporting and serving in the Pantry's ministries!
76th KIVA Microloan
In late March, Winchester Friends made our newest KIVA loan of $400 to Irine, a married mother of five who sells local fruit in the marketplace in Kisumu, Kenya (the city of FUM's Africa Office). Her goal is to grow the business, increase her family's income, and save for her children's educations.  Starting from $3000 of Best Special Projects principal, the Missions & Social Concerns Committee has now loaned out a total of $26,825 to 76 borrowers in the regions of FUM missions sites (East Africa, Palestine, Jamaica, Cuba, and Belize). To learn about all our past and current loan partners, go to .  Click on "Teams" beneath "Community" at the bottom of the page, then type Winchester Friends into the "Search Teams" box and click "search."  Click on the photo of our meetinghouse, then on the "Loans" tab at the top of the next page.
Thank You!
to Al Groth for replacing the church kitchen's garbage disposal in late March after the old one stopped working
Quaker Haven 2018 Camps
for registrations after

May 31

, add $50 to listed fee
Jr. High Camp
      grades 7,8       
June 10-15
       $296
Beginners Camp
   grades K-2     
June 15-17
      $156
requires a parent or guardian with each camper
Senior High 1
      grades 9-13      
June 17-22
      $296
Adventure Camp
    grades 5,6     
June 24-29
       $296
Little Friends Camp
grades 2-4   
July 8-11
          $196
Senior High 2  
     grades 9-13     
July 15-20
        $296
The Christian Education Committee offers scholarships to cover the early registration cost for kids who faithfully attend Winchester Friends, plus one guest.
Best Special Projects for 2018-2019
Each spring, Winchester Friends receives a distribution of funds left to the Meeting from the perpetual trust of deceased Friends Bashia and Ed Best.  The church uses part of this money for its in-house ministries, but Friends have agreed together to give a substantial portion of it each year to strengthen ministries beyond ourselves that are "making Christ's kingdom visible and tangible" in the community and world around us (ministries such as the Missions Trip fund, KIVA microloans, community food pantry support, Christmas and Easter missions offering matching grants, Pennies From Heaven and Shareholders in Shalom, scholarships for Friends ministry students, etc.).  Since 2001, Winchester Friends has given over $250,000 to such ministries, whenever possible to ones in which our own Friends are significantly involved.  The Clerks & Officers will meet in May to begin preparing a proposal for using 2018 Best Trust funds in these ways during the 2018-2019 church year.  Please give prayerful consideration to creative new Best Special Projects ideas, and share them with a committee clerk or Meeting officer soon.
Spring 2018 Social Concerns Focus:  Digital Discipline
For the first half of 2018, the Missions & Social Concerns Committee asks Friends to recognize both the benefits and the risks of this "digital age," and to carefully consider the quality, quantity, and spiritual witness of your use of social media and other electronic communications and entertainment programs and devices.
….Let us throw off everything that hinders and the sin that so easily entangles, and let us run with perseverance the race marked out for us.  Let us fix our eyes on Jesus, the author and perfecter of our faith…..  (Hebrews 12:1-2)   
Who Has Your Eyes?  In April 2017, the CBS television news magazine "60 Minutes" aired an episode titled "Brain Hacking" featuring interviews with former software designers for major social media and technology firms.  They quit those lucrative jobs as a matter of conscience over the industry's unrestrained competition to attract and keep customers' eyes glued to their screens.  They do it by developing algorithms and techniques that enable cell phones, other digital devices, and social media programs to trigger users' brains to release pleasure and anxiety hormones — biochemical rewards and punishments — in ways that keep them coming back to their devices.  And they do it because their companies' revenue is made by selling advertising at rates based on "the number of eyeballs and eyeball-minutes they can deliver."  The scientists' concern is that the repetition of that pleasure/anxiety cycle several times per hour, day after day, reconfigures users' neural pathways in the direction of addiction, especially in the still-developing brains of children and youth.
Who Gets Your Time?  When the Missions & Social Concerns Committee discussed this issue recently, they reviewed a 2016 survey (dscout.com) showing that average smart phone users check or use their device 76 times per day for a total of 2.5 hours.  Heavy users check or use their phone 132 times per day for almost four hours.  A 2015 study by Childwise found that American children spend on average at least 6.5 hours per day looking at electronic screens (including TV).  Older teens clocked in at eight hours per day in that total screentime survey.  One committee member responded to that information by wondering aloud how much time those same people spend in prayer, scripture study, and contemplation of spiritual truth each day — and how different the world might be if those time usages were more balanced.
Who Shapes Your Worldview?  One of the software engineers interviewed by "60 Minutes" said he left his job after realizing that his work was "shaping how people think and feel."  He had written algorithms that enabled his social media employer to harvest massive amounts of personal information from users.  The company then creates user profiles on those people and sells those profiles to advertisers, who then individually tailor ads and messages (social, religious, political, etc.) designed to keep specific users' eyes on their screens.  That seems innocent, sometimes even helpful.  But considering how many hours per day people are presented messages that reinforce their assumptions (and are not shown information that might challenge their assumptions), the engineer's misgivings about shaping people's thoughts and feelings are justified.  Regardless, Jesus' followers are called to be taught and led by his Spirit, not by engineers and marketers.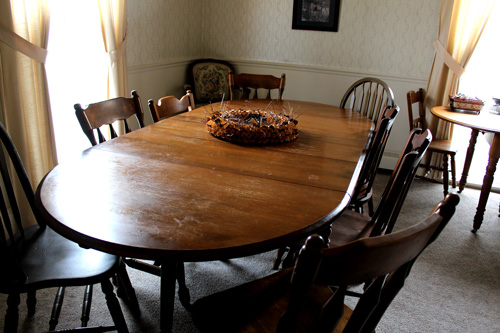 The Lord's Table, Not Ellen's
The very best "face time" is around an old maple table of mine that now sits in the dining room of the parsonage. That table began as a tree in a north woods and stood there far longer than it has been a table.  I first saw it in a furniture store in Minot, North Dakota, in 1967.  I was convinced that it should stand in a dining room on Tangley Rd at Minot AFB where Dale and I lived at the time.  That was the last time it stood in a dining room in my home — it has always shared a spot in the living room with whatever other furniture had to be moved when it was needed as a table.  Its drop-leaf feature allowed me to keep it in several homes through 30 years.  (That same feature requires anyone sitting at this table to fight with its legs.)  When Ron and Pam arrived in Winchester almost 20 years ago with a waterbed and little else, I quickly decided that the maple table had a new home.  As you may have guessed, I have had a 50-year (and 50-pound) relationship with this table.  It has been the bearer of many good meals and the center of many good conversations. But blessings even greater than those come from being face to face with people around this old table.  On Wednesday evenings we gather around that table to pray for members of our Meeting, our community, and for many other concerns. And oh yes, we have Prayer Soup or Intercession Salad.  There always seems to be room for more people around "Ellen's Table." Perhaps you should come and see.