Winchester Friends Church   

124 E. Washington     Winchester, IN  47394

    765-584-8276
In every way possible, Winchester Friends seeks to carry out its calling to make Christ known through meaningful worship, obedient witness, and sacrificial service, welcoming all who are willing into friendship with God and into redemptive community together.
Friendship Sunday Recap – Let's Be Friends
Around 70 Friends and guests attended the 2018 Friendship Sunday service and Fall Picnic on September 23 at the county fairgrounds (see Winchester Friends' Facebook page, or click on "Weekly Bulletins and then Friendship Sunday" at <www.winchesterfriendschurch.org>).  After fellowship over cinnamon rolls, we worshiped outdoors with music by the choir, M&O Care Group discussions of people who have lived as God's friends, and a message detailing what it means to live as friends of Christ's life, truth, and way. The launch of Peace Prayer balloons had to be delayed until World Quaker Day on October 7 due to a helium procurement problem.  The Fabulous Friends and Parsonage classes and the church's many superb cooks provided an excellent Fall Picnic lunch at noon.  Thank you to everyone who attended, brought guests, provided music, and supplied the delicious food; to the Christian Fellowship Committee and the Ministry & Oversight for their extra help hauling equipment and cleaning up; and to all who contributed in other ways to make Friendship Sunday a good, enjoyable day!
USFW Apple Dumpling Project
Nearly 1200 apple dumplings were hand-assembled by USFW women and many other volunteer helpers on September 29 to be sold at Winchester's 2018 Mardi Gras fall festival October 3-6.  This year's apples were larger than usual, which meant there were fewer in each box and thus fewer dumplings to sell than in recent years.  Special thanks to Wicks Pies for their kind assistance in obtaining the apples and pie lids.  Most of the dumplings were baked and sold during the four-day event, along with sandwiches, hot dogs, and drinks.  Decent weather and excellent volunteer help in the kitchen and booth made it another successful project.  Thank you to everyone who helped make, bake, and sell the dumplings, helped set up before and clean up after the event, and to all who purchased food to help USFW raise funds!  At this writing, it is likely there will be few if any frozen dumplings left after Saturday's booth sales, but watch for late announcement in case some do remain for sale for upcoming holiday feasts.
USFW in October
 The USFW will meet Wednesday October 10 at the church at 1:30 PM.
Hurricane Relief Matching Fund
The Missions & Social Concerns Committee in mid-September approved setting up a fund for helping Friends in the Carolinas working in the recovery effort after massive flooding and other damage from Hurricane Florence.  The first $500 donated will be matched dollar-for-dollar from Best Special Projects and Missions Unspecified funds.  The money will be sent to North Carolina Friends Disaster Service at the end of October.  Checks may be made out to Winchester Friends, clearly designated for "hurricane relief."  Thank you to the Friends who already have contributed!
Hymnbook Choir October 14
All singers are invited to help the first Hymnbook Choir of the autumn to provide special music (Sunshine In My Soul, #499 in the hymnal) during worship on October 14.  Meet in the sanctuary at 8:45 AM that morning briefly to rehearse, then help present the piece during the 9:15 AM service.  Please speak with director Brian Lilly for more information.
Sing in the Weekly Worship Choir
There are still plenty of seats for new singers (Jr. High and older) in the choir that sings during the Meeting for Worship most Sundays through the school year.  Rehearsals are held on Wednesday evenings at 7:00 PM.  Whether you're an experienced musician or a beginner, you are welcome to add your voice to this important, encouraging ministry of our church.
Christmas Program Choir
All Friends are invited to come help present a variety of sacred Christmas music for the 2018 Christmas program to be held on Sunday evening December 16.  Rural Friends and other friends are being invited to participate.  The first rehearsal will be held on Wednesday evening November 7 at 7:00 PM.  If you would like to sing with the Christmas choir, present other special music, or contribute to the Christmas program in some other way, please contact Brian Lilly (765-969-0689).
___________________________________________________
Please keep the church office updated on your family's birthday and
anniversary information, and any address/phone/e-mail changes.
__________________________________________________
World Quaker Day is October 7
Friends World Committee for Consultation (FWCC) designates the first Sunday of October each year as World Quaker Day, reminding Friends that each Sunday, fellow Quakers meet for worship in every time zone around the world, and that we all are connected by Christ's Spirit in a global fellowship of worship and service.  Winchester Friends will mark the day with photos posted to FWCC's website, presentation of the Ministry & Oversight's State of Society Report for 2017-2018, and release of white balloons symbolizing a flock of doves and bearing a card with the Prayer of St. Francis on it "in hopes for a world made new by Christ's love."
2019 Church Budget
The Stewardship & Finance Committee will meet in late October to finalize the Meeting's 2019 budget proposal for first presentation at November's Monthly Meeting for Business.  Committee clerks are reminded to submit your committee's budget request to the church office as early in October as possible.  Thanks to all Friends for your faithful stewardship!
Our Sympathy
to Rob and Valerie Pearson and their family mourning the deaths of Rob's sister Barbara Lynch on September 2, then of Rob's mother Jennie Pearson on September 12.
Dining Hall, Kitchen Renovation Project
Significant progress was made during September on the renovation of the dining hall.  Installation of the new suspended acoustic tile ceiling and LED light fixtures was completed, and primer was applied to the new sheetrock walls in advance of the apple dumpling workday at the end of September.  Light blue paint is on hand for application to the entire room after the apple dumpling project is finished.  Several options for floor covering were investigated, and the Trustees chose to purchase a new stone-look vinyl tile system that Friends will be able to install themselves.  New cabinets and countertops for the kitchen are being studied and bids are being taken.  Thank you to the Trustees and their helpers — particularly Dave Longnecker, Al Groth, Shane Hall, Linda Campbell, and Tony Kritsch — for their many hours of labor given in September to advance this project.  The exact schedule and sequence of next steps is still under discussion, but volunteers likely will be welcome soon in October to come help clear out the kitchen, paint walls, and install floor tiles before the new cabinets are set.  If you would help the Trustees to work toward finishing this project in the coming weeks, please speak with Trustees co-clerks Al Groth or Shane Hall.
  Rummage Sale for Cuba Thanks
The Missions & Social Concerns Committee thanks all Friends who donated rummage to be sold, helped sort and display the items in advance of the September 15 sale, helped conduct the sale that Saturday, purchased sale items, and helped clean up in record time afterwards.  The sale raised at least $1200 for the renovation of the Wilmington Friends School at Puerto Padre, Cuba, after years of government possession of the facility, and unrepaired hurricane and other damage. FUM estimates that the project will cost $70,000 to complete. 
Community Food Pantry
The Winchester Area Churches & Community Food Pantry in September served approximately 322 households.  For comparison, 348 families were served in August 2018, and 350 were helped one year ago in September 2017.
80th, 81st KIVA Microloans
Winchester Friends made two new KIVA loans in early October.  The first went to Ahmed, a  21-year-old refugee living with his family in a camp near Ramallah in Palestine (city of the Friends School).  Ahmed works to help his family with living expenses by running a grocery store in his camp.  It is his only source of income.  The loan will enable him to increase his stock of goods, hopefully increasing sales and thus his income.
Our 81st loan went to the Flor De Chuacorral Group, nine women clients of the Friendship Bridge Trust Bank who live in the mountains of Guatemala (in the region of FUM's Belize Friends Mission).  Many have only a middle school education.  They support their households and the educational expenses of their children through convenience stores and traditional textile businesses, selling their wares both inside and outside their community.  They are required by Friendship Bridge to participate each month in the "Microcredit Plus" program,  educational trainings where they learn about effective business practices and budgeting, health, hygiene, nutrition, empowerment, self-esteem, and women's rights.
From $4000 of Best Special Projects money, Winchester Friends has now loaned a total of $28,775 to 81 low-income borrowers in the regions of FUM missions sites (East Africa, Palestine, Jamaica, Cuba, and Belize).  To learn about all our past and current loan partners and see their progress, go to <KIVA.org>.  Click on "Teams" beneath "Community" at the very bottom of the page, then type Winchester Friends into the "Search Teams" box and click "search."  Click on the photo of our meetinghouse, then on the "Loans" tab at the top of the next page to see all our loan partners.
Fall 2018 Missions Focus – Cuba Yearly Meeting
During the second half of 2018, the Missions & Social Concerns Committee asks Friends to learn about and pray for the missions efforts we support in Cuba through Friends United Meeting.
         In March 2017, I traveled to Belize with others from Winchester Friends to work on the new Friends School facility there.  We flew to Miami, changed planes, then took off headed southwest over the 90 miles of Caribbean separating Florida from Cuba.  As we got closer and closer to Cuba's north coast, I peered down from my window seat thinking "That is what I was conditioned in childhood to fear?  Seriously?"  It brought back vivid memories of an 8 year-old me huddling with my brothers in a musty basement in a small Kansas farm town in October 1962 after hearing President Kennedy warn the Soviets to back off, hoping that our house wasn't on Castro's list of targets.  I could not possibly have understood the complex issues that led to the missile crisis — all I distinctly remember is the fear. 
 I have not yet been on the ground in Cuba.  It was only after our 1998 arrival in Friends United Meeting territory that I learned about the 100-year presence of Quakers there.  I have met only a few Cuban Friends.  But with the ongoing suspicion and animosity towards Cuba still held by so many in our country, it seems quite important to have a thoughtful answer ready when I encounter people still operating on 1962 fear and prejudice who ask, "Why does Cuba even matter?"
         My faith convinces me that Cuba and Cubans matter because they give me the opportunity to
practice seeing that of God in everyone
.  They, like the rest of humanity, are made in God's image, are loved by God and are beneficiaries of Christ's redeeming work.  Cuba and Cubans provide us with an opportunity to
bear witness in our own communities
of the importance of the second of the "greatest commandments," as illustrated by Jesus in the Good Samaritan parable —
love your neighbor as yourself
(without exceptions, as our FCNL friends remind us), defining "neighbor" as the people you were taught in childhood to fear and despise.  Cuban Friends matter for their witness to us up north.  People who have sojourned among them report that despite lives of hardship and constraint, they
worship and witness for Christ with a passion all too often absent
from American contexts.  Their circumstances keep them mindful of their need for God.   And they matter because they are
willing to explore with us the consistent truth of Friends testimonies and principles
when applied in very different cultural and social settings.  It was Ugandan Friends from whom I first began learning that lesson.  I'm thankful for Cuban Friends willing to help continue my spiritual education.
–Ron Ferguson, for Missions & Social Concerns Committee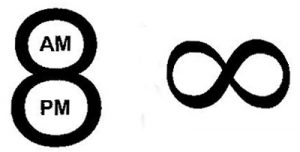 Pray at Eight – Pray Without Ceasing

for people struggling against substance abuse and addiction, and for the people working to help them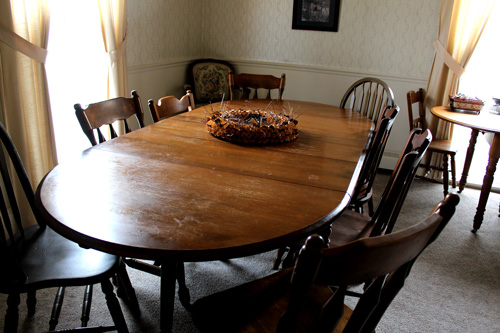 The Lord's Table, Not Ellen's
The very best "face time" is around an old maple table of mine that now sits in the dining room of the parsonage. That table began as a tree in a north woods and stood there far longer than it has been a table.  I first saw it in a furniture store in Minot, North Dakota, in 1967.  I was convinced that it should stand in a dining room on Tangley Rd at Minot AFB where Dale and I lived at the time.  That was the last time it stood in a dining room in my home — it has always shared a spot in the living room with whatever other furniture had to be moved when it was needed as a table.  Its drop-leaf feature allowed me to keep it in several homes through 30 years.  (That same feature requires anyone sitting at this table to fight with its legs.)  When Ron and Pam arrived in Winchester almost 20 years ago with a waterbed and little else, I quickly decided that the maple table had a new home.  As you may have guessed, I have had a 50-year (and 50-pound) relationship with this table.  It has been the bearer of many good meals and the center of many good conversations. But blessings even greater than those come from being face to face with people around this old table.  On Wednesday evenings we gather around that table to pray for members of our Meeting, our community, and for many other concerns. And oh yes, we have Prayer Soup or Intercession Salad.  There always seems to be room for more people around "Ellen's Table." Perhaps you should come and see.