Friendly Reminder  

Winchester Friends Church   

124 E. Washington     Winchester, IN  47394

    765-584-8276
In every way possible, Winchester Friends seeks to carry out its calling to make Christ known through meaningful worship, obedient witness, and sacrificial service, welcoming all who are willing into friendship with God and into redemptive community together.
 Come to the Light
Trustee Dave Longnecker was busy in October taking care of another important piece of 2019's bell tower repair project.  In early August, a new waterproof covering was applied to the roof, and the drainage system was improved to keep water from standing on it.  The technicians advised that thermostat-controlled heat tape be installed in and around the drain line to prevent its blockage by ice.  Dave spent parts of several days running  wiring up to the roof, adding outlets, and installing the heat tape.  At Pam Ferguson's urging — since he had gone to the trouble to get electricity up there — Dave also installed LED lights in the bell level of the tower, timed to illuminate the bell each evening during the same hours the sanctuary's rose window is lighted.  When you drive by the meetinghouse at night now, look up!
The construction crew lined up to carry out the remaining repairs to walls and windows inside the tower notified the Trustees recently that weather delays to their current jobs will prevent their arrival to do Winchester Friends' work until the early spring of 2020.
Thank you, Trustees, for your faithful care and stewardship of the meetinghouse and other church properties!
Sing in the Christmas Cantata Choir
All singers (junior high and older) are welcome to sing in this year's Christmas cantata choir, even if you cannot join the weekly worship choir.  Rehearsals of Love Came Down at Christmas (Joel Raney) begin at 7:00 PM on November 6 and will be held most Wednesday evenings until the December 15 Christmas Program.  Singers from Rural Friends and other area friends have been invited to join us — so bring a friend, and come sing!  Please contact director Brian Lilly for further information.
Gideons International Sunday
  Guest speaker Terry Green will give the message during worship here at 9:15 AM on November 17 (while the Fergusons are in Washington DC at the annual general board meeting of Friends Committee on National Legislation).  At the close of the service, an "open Bible offering" will be received in support of the Gideons' ministry of placing Bibles in motels, hospitals, schools, and other public venues.  Please attend and help support the Gideons.
____________________________________________________
Please keep the church office updated with your current address, phone, e-mail,
and birthday and anniversary information.
____________________________________________________
Memorial Christmas Poinsettias
Friends are invited to provide a memorial poinsettia plant to decorate the sanctuary during Advent (December 1, 8, 15, 22) in memory or in honor of someone you love.  To do so, please sign the order sheet in the sanctuary parlor or notify the church office (584-8276) by November 17.  The cost is $6 per plant.
Community Thanksgiving Service
The local Ministerial Association will hold its annual community Thanksgiving service on Sunday evening November 24 at 6:00 PM at Jericho Friends Church (intersection of CR 100S and CR 400E).  St. Vincent Randolph Hospital chaplain Debbie Harmon will give the message, with special emphasis on gratitude for healing ministries, plus acknowledgment of the 100th anniversary of Winchester's hospital and the 20th anniversary of St. Vincent's partnership with it.  Please join other area Christians for this community-wide opportunity for witness and fellowship.
New in the Library
Several in the Meeting have been busy reading and have recommended books for the church library. The Christian Education Committee funded the purchase of copies of the books below for both the church library and the Winchester Community Library. Check them out!
Searching for Sunday:  Loving, Leaving and Finding the Church by New York Times best-selling author, Rachael Held Evans.  This book is a favorite of Bill Wagoner and tells about the late Rachael Evans' struggle with a church culture removed from Jesus. It is her memoir about making do and taking risks, about the messiness of community and the power of grace and hope.
Being Mortal: Medicine and What Matters in the End by Atul Gwande was chosen as the Best Book of the Year by the Washington Post and is a favorite of Pam Ferguson.  It is an honest, humane, and important book encouraging all to see the ultimate goal is not a good death, but a good life -– all the way to the end.
Soul Keeping: Caring for the Most Important Part of You by John Ortberg is a favorite book of Al Groth. The Fabulous Friends Sunday School is spending the next few months looking at this important book and its accompanying DVD.  Many are finding the study encouraging in their connection to God and spiritual depth — and they invite other Friends to come join them each Sunday at 10:30 AM in the basement parlor!
USFW Updates
—Thank you to everyone who helped with the USFW's 2019 apple dumpling project during Winchester's fall festival in early October!  1126 baked and 242 frozen dumplings, plus many sandwiches and drinks, were sold from the booth on the church lawn, resulting in over $3000 of profit for USFW's ministries.  14 frozen dumplings still are available.  Thank you for supporting USFW outreach!

—The USFW will meet Wednesday afternoon November 13 at 1:30 PM at the meetinghouse. 

—All ladies are invited to participate in USFW activities and outreach all year long — come join us!
Congratulations!
—to Bettye Monks, who was honored at a carry-in dinner on September 26 with a bouquet of flowers from St. Vincent Randolph Hospital marking her service as the Hospital Auxiliary's first and only treasurer for over 41 years, from the organization's beginning in April 1978 until her retirement in October 2019

—to Al and Linda Groth on the birth of their new grandson Owen Asher Oswalt on October 29 to Laura and Jacob Oswalt of Bluffton, IN
Winchester Friends 2019 Holidates
Nov.  6      Christmas cantata practices begin, 7:00 PM
Nov. 17   –Memorial poinsettia order deadline
                –Gideons International Sunday here, 9:15 AM
Nov. 24     Community Thanksgiving Service, 6:00 PM @ Jericho Friends Church
Nov. 28      Happy Thanksgiving!
Dec.  1    –first Sunday of Advent 
                –Monthly Meeting for Business, 11:20 AM
Dec.  8    –second Sunday of Advent
                —Holiday Dinner for the whole church family, 11:30 AM (Fabulous Friends & Parsonage classes hosting)    
Dec.  11    Community Christmas Basket sorting/counting work night, 6:00 PM @ fairgrounds
Dec. 15  –third Sunday of Advent
                —Christmas cantata, 6:30 PM
                —Holiday Desserts after the program
Dec. 16     Community Christmas Basket box-packing work night, 6:00 PM @ fairgrounds
Dec. 21     Community Christmas Basket deliveries, 9:00 AM – 3:30 PM @ fairgrounds
Dec. 22   –fourth Sunday of Advent
                 –cinnamon roll fellowship after worship
Dec. 25      Merry Christmas!      
Support Missions This Holiday Season
The Missions & Social Concerns Committee invites everyone to make an extra gift for missions and outreach during the upcoming Thanksgiving-Christmas season.   Please clearly designate your gift "Christmas missions" and place it in the Sunday offering or hand it to the church office.  The first $500 of these gifts will be matched by Best Special Projects money, and the eventual total will be shared between local and global outreach recipients (specifics to be determined in November's meeting).
Help Decorate the Meetinghouse
The Welcome Class invites interested Friends in late November to help decorate the sanctuary for the upcoming Christmas season.  The exact date has not yet been determined, but it likely will be either Saturday November 30 or Sunday evening December 1.  Watch for announcement soon of the date and time, and come help!
Advent = Arrival, Entry Into
Each Sunday during Advent in recent years, Friends have been invited to help us celebrate Jesus' entry into the world 2000 years ago by telling the congregation their personal advent stories of Christ's arrival into their lives.  They then have hung ornaments on the parlor Christmas tree to symbolize their stories and remind everyone of what they said.  The Ministry & Oversight again in 2019 invites you to tell others how Christ arrived, or keeps arriving, into your life.  If you already shared your advent story in past years, people new to our Meeting might enjoy hearing you "retell" or update what your tree ornament symbolizes.  If you would volunteer this Advent season (December 1, 8, 15, 22, or 29) to tell — or retell and update — your story of Christ's arrival(s) into your life, you are invited to schedule it soon through the church office.
91st, 92nd KIVA Microloans
The Missions & Social Concerns Committee in late October made a loan of $400 to Fany Julisa, a 35 year-old mother of three in San Pedro Sula, Honduras (just south of Friends' missions presence in Belize).  Fany runs a grocery shop in her home.  She requested a KIVA loan to invest in buying dry corn and beans in bulk, plus vegetables, meat, seasonings, milk products, rice, seafood, and cleaning products.  Along with the loan, Fany also will receive financial training and help starting a savings account.
A $400 loan also was made to Essam, a married 34 year-old refugee living with his wife and three kids in a village near Ramallah, West Bank, Palestine (city of the Friends School).  Essam's only source of income for his family is construction work.  His request for a KIVA loan was to buy construction tools and supplies needed to expand his work in order to improve his family's living standard.
From $4000 of Best Special Projects funding, Winchester Friends has now loaned $32,925 to 92 borrowers in the regions of Friends United Meeting's missions sites in East Africa, Palestine, Central America, and the Caribbean.
To learn about all our past and current loan partners and see their progress, go to .  Click on "Teams" beneath "Community" at the bottom of the page, then type Winchester Friends into the "Search Teams" box and click "search."  Click on the photo of our meetinghouse, then on the "Loans" tab at the top of the next page to see all our loan partners.
Food Pantry Report
The Churches & Community Food Pantry in October served 388 households.  For comparison,  319 families were helped during September 2019, and 389 were served one year ago in October 2018.  Thank you to all who help!
Fall 2019 Missions Focus:  Jamaica Yearly Meeting
During the first half of each year, the Missions & Social Concerns Committee asks Friends to focus on a contemporary social concern.  In the latter half of each year, we call Friends' attention to one international missions effort of Friends United Meeting.  For the fall of 2019, that focus is upon Quaker presence and ministry since 1881 on the Caribbean island of Jamaica.
In late October, an FUM periodic news e-mail featured an article about two July youth camps offered by Jamaica Yearly Meeting and Friends from North Carolina for 200 Jamaican kids at the former Swift-Purscell Boys School at Highgate in northeast Jamaica.  The piece told of kids apprehensive about sleeping away from home, of too-early mornings, lots of group activities, Bible classes, music, sports, good food, and evening bonfires.  The photos showed some kids frolicking in the waves, others proudly wearing their camp t-shirts.  Except for the ocean part, it could have been Quaker Haven.
Some friends recently traveled to Jamaica for a beach resort vacation.  When I asked for impressions of their visit, the first response was not about blue water or ocean breezes in the palm trees, beautiful beaches or lush vegetation — it was of the relative poverty of most of the inhabitants, contrasted with the apparent wealth of the privileged few.  It turns out that wealth and income disparity is not just an American phenomenon.
The Pew Research Center in October released a new survey showing that the number of American adults who self-identify as Christian has shrunk by 12% in the past ten years, that only 49% of millennials say they're Christians, that 25% of all Americans say they're "nones" having no particular religion, and that most American adults attend worship only a few times per year.  I couldn't help recalling Jamaican Friends pastor Horace Hall's essay in October's Friendly Reminder indicating that the same things are increasingly true of Jamaicans.
The ground at Jesus' feet is remarkably level.  Winchester Friends is sending financial support this fall to help provide training to strengthen Jamaica Yearly Meeting pastors and leaders.  We — and they — can all use the poignant reminder in Galatians 6 (from our State of Society Report) to keep sowing to please the Spirit, to not become weary in doing good, and at the proper time to reap an eternal harvest because we did not give up.  
–Ron Ferguson, for Missions & Social Concerns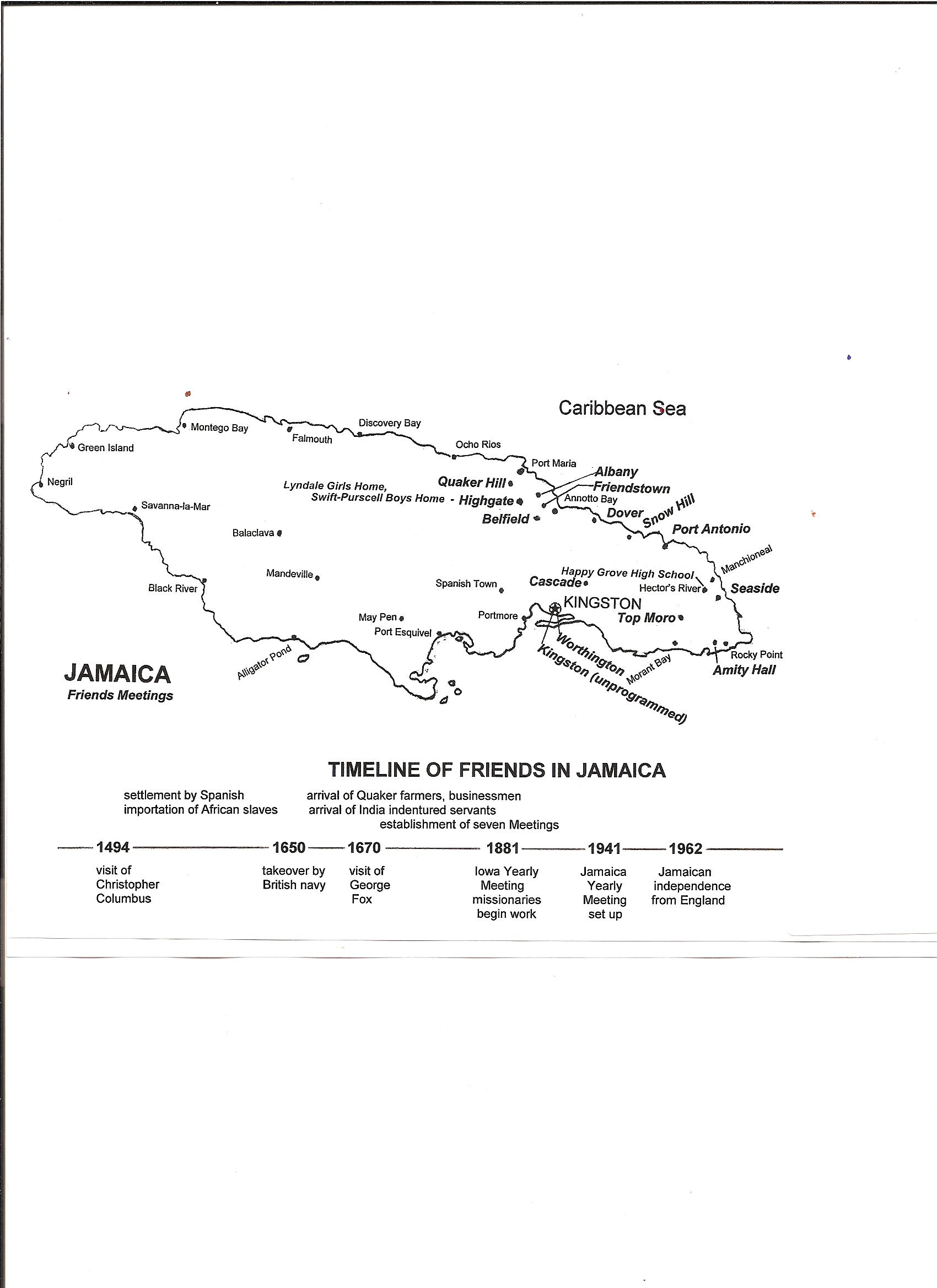 ********************************************************
Winchester Friends Church             765-584-8276
124 E. Washington St.        Winchester, IN 47394
www.winchesterfriendschurch.org
**********************************************************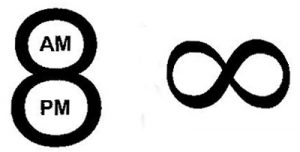 Pray at Eight – Pray Without Ceasing

for people struggling against substance abuse and addiction, and for the people working to help them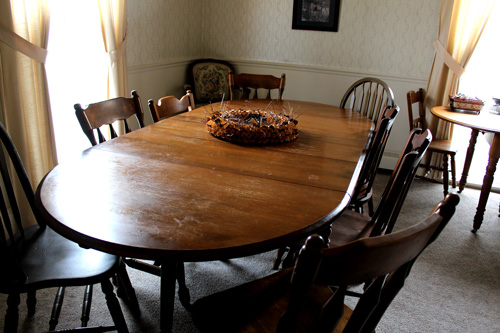 The Lord's Table, Not Ellen's
The very best "face time" is around an old maple table of mine that now sits in the dining room of the parsonage. That table began as a tree in a north woods and stood there far longer than it has been a table.  I first saw it in a furniture store in Minot, North Dakota, in 1967.  I was convinced that it should stand in a dining room on Tangley Rd at Minot AFB where Dale and I lived at the time.  That was the last time it stood in a dining room in my home — it has always shared a spot in the living room with whatever other furniture had to be moved when it was needed as a table.  Its drop-leaf feature allowed me to keep it in several homes through 30 years.  (That same feature requires anyone sitting at this table to fight with its legs.)  When Ron and Pam arrived in Winchester almost 20 years ago with a waterbed and little else, I quickly decided that the maple table had a new home.  As you may have guessed, I have had a 50-year (and 50-pound) relationship with this table.  It has been the bearer of many good meals and the center of many good conversations. But blessings even greater than those come from being face to face with people around this old table.  On Wednesday evenings we gather around that table to pray for members of our Meeting, our community, and for many other concerns. And oh yes, we have Prayer Soup or Intercession Salad.  There always seems to be room for more people around "Ellen's Table." Perhaps you should come and see.